If you've ever spent time as a patient in a hospital, you probably remember the nursing staff and how they helped you recover. You've probably even asked yourself how nurses manage to get through every working shift.
Nurses are the backbone of the health system and they have a lot of nursing rules to follow. if you're a nurse, we applaud you. One of the things that can make your day is a good laugh, so here are 101 funny nursing memes that any nurse or nursing student will relate to.
1) Let the funny nursing memes begin!
"Trying to explain your work schedule to friends."
2)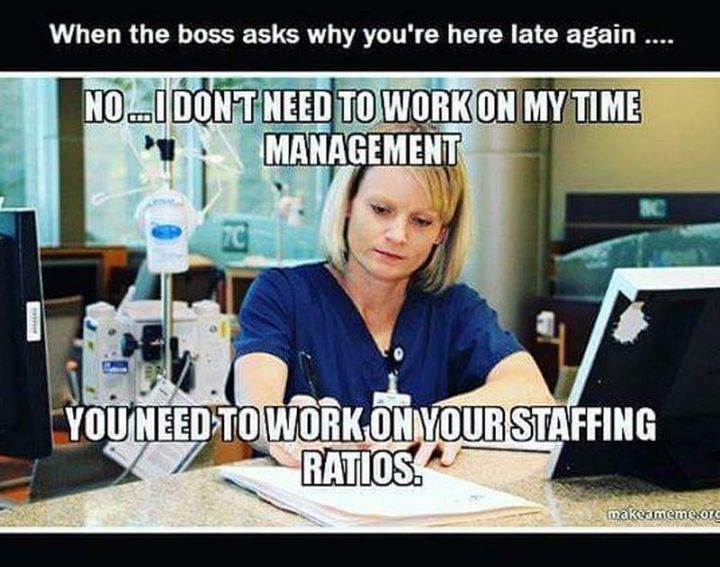 "When the boss asks why you're here late again…No…I don't need to work on my time management. You need to work on your staffing ratios."
3)
"Nice veins…I'd tap that!!!"
4)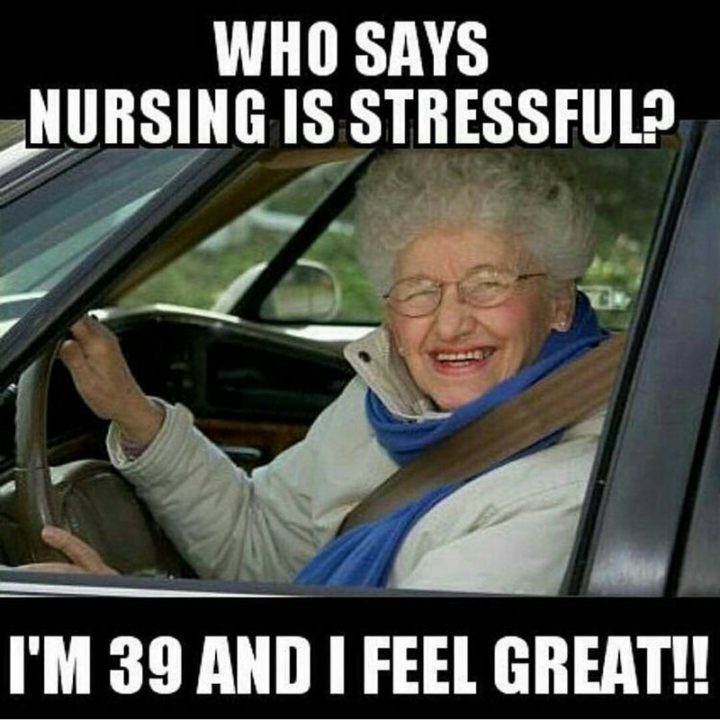 "Who says nursing is stressful? I'm 39 and I feel great!!"
5)
"Being a nurse really takes over your life; You'll start secretly diagnosing strangers when you're standing in line at the groceries store before you know it."
6)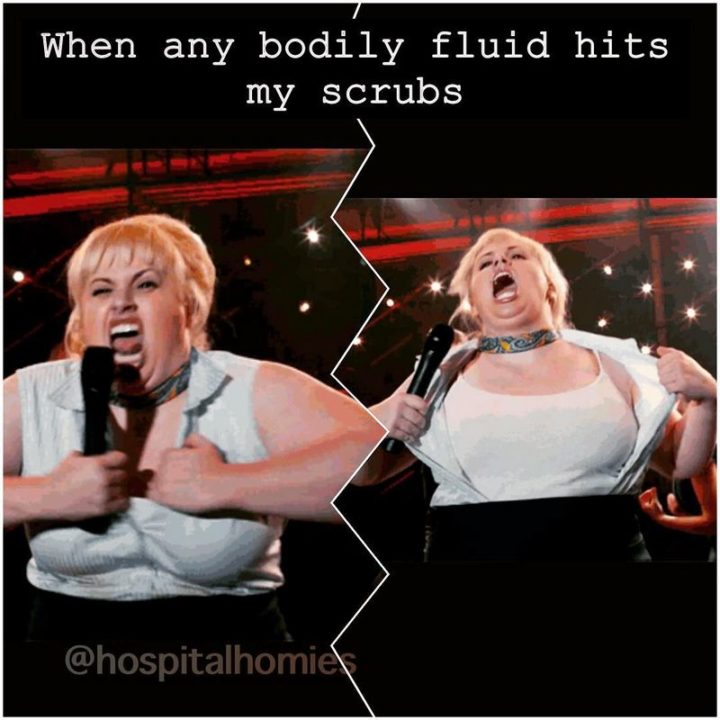 "When any bodily fluid hits my scrubs."
7)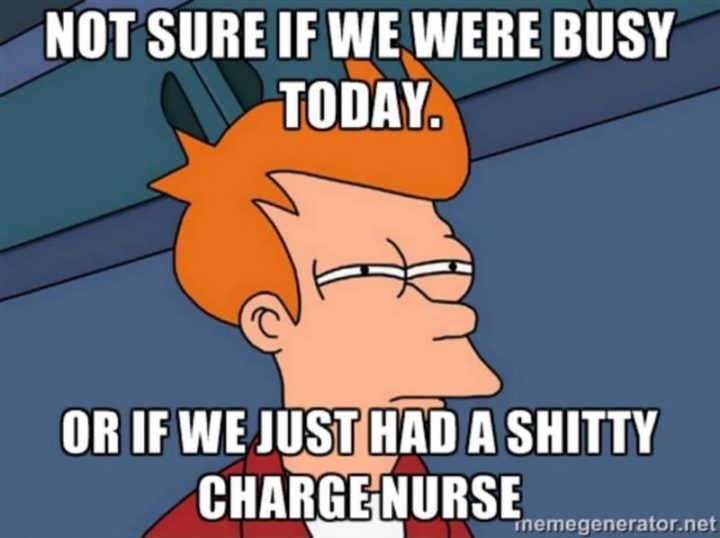 "Not sure if we were busy today. Or, if we just had a s***ty charge nurse.
8)
"Me, trying to get off the floor at the end of my shift without my patient noticing."
9)
"Your face when…your nurse buddy gets assigned to a different unit."
10)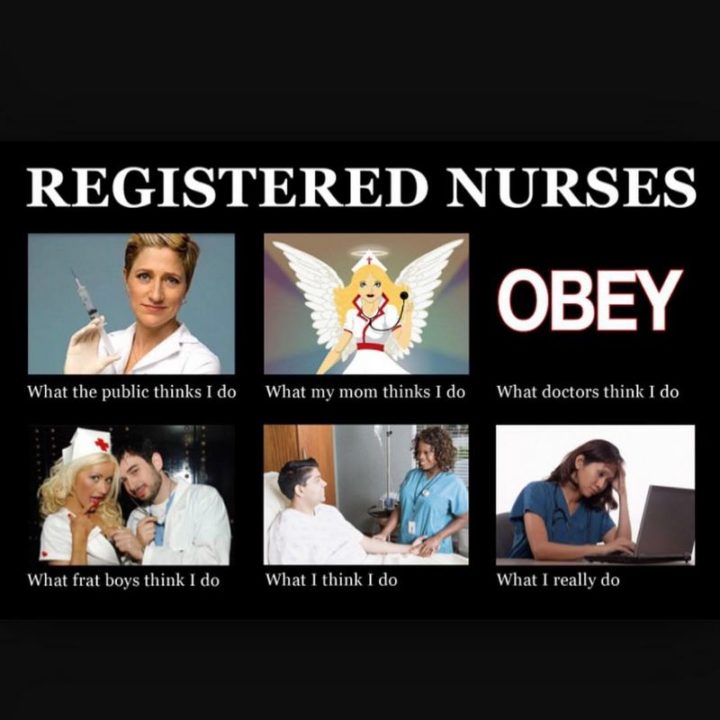 "Registered nurses. What the public thinks I do. What my mom thinks I do. What doctors think I do. What frat boys think I do. What I think I do. What I really do."
11)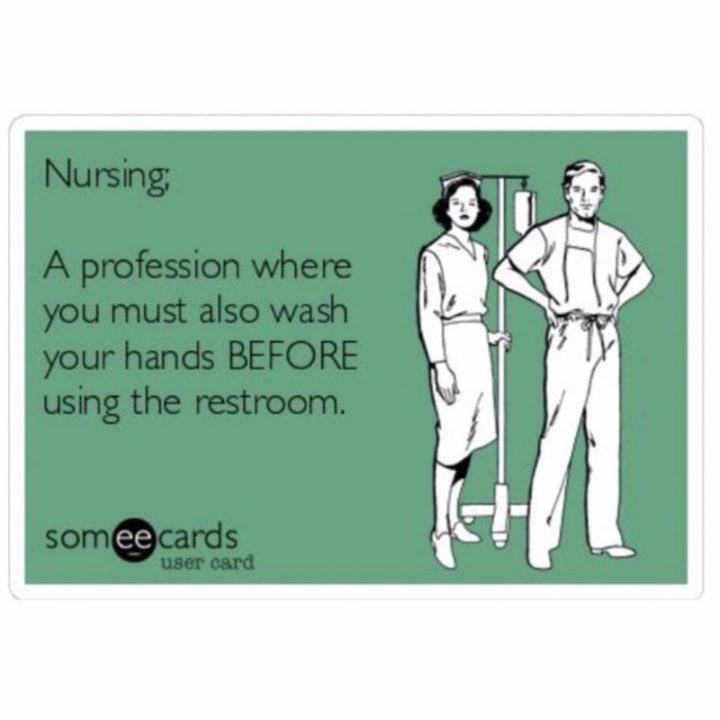 "Nursing memes: A profession where you must also wash your hands BEFORE using the restroom."
12)
"Me when I see first semester nursing students."
13)
"NOT the waitress button!"
14)
"When you drive by the hospital on your day off."
15)
"Expectation: I'm going to be a compassionate and caring nurse who is sensitive and understanding to the needs of my patients. Reality: I silently mouth 'WTF' at least 20 times per shift."
16)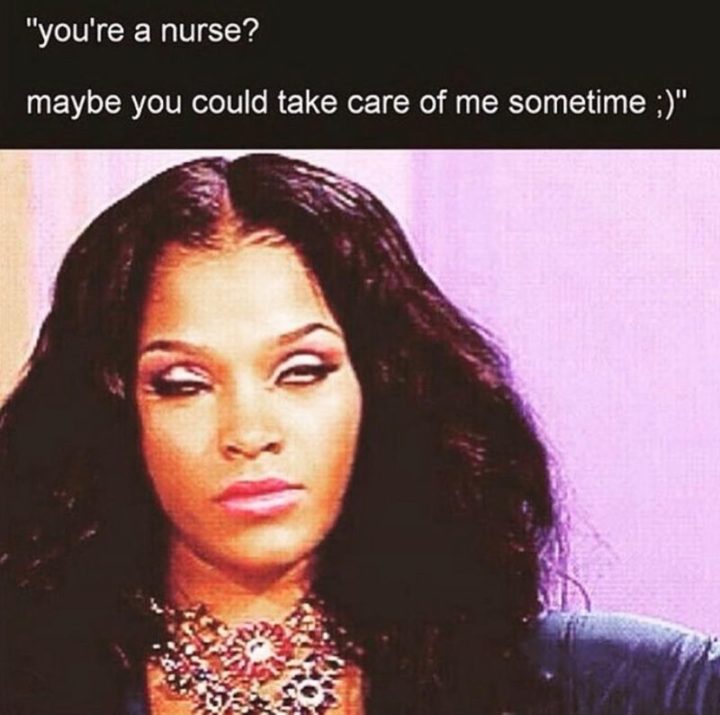 "You're a nurse? Maybe you could take care of my sometime."
17)
"I came, I cared, I cried, I charted, I laughed til I cried, then went home. A day in the life of a nurse."
18)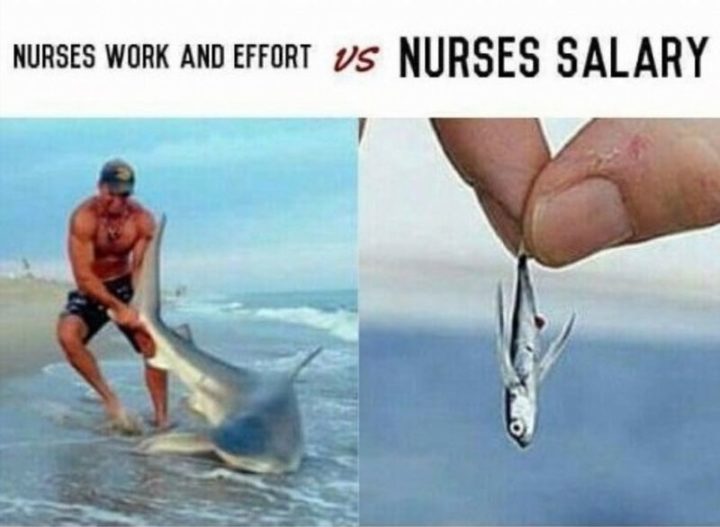 "Nurses work and effort VS nurses salary."
19)
"When you catch a glimpse in the mirror, during a long stretch of shifts. Oh, I'm like the crypt keeper!"
20)
"Before coffee. After coffee."
21)
"Nurse problems: Paying $120 for UGLY shoes because they're comfy."
22)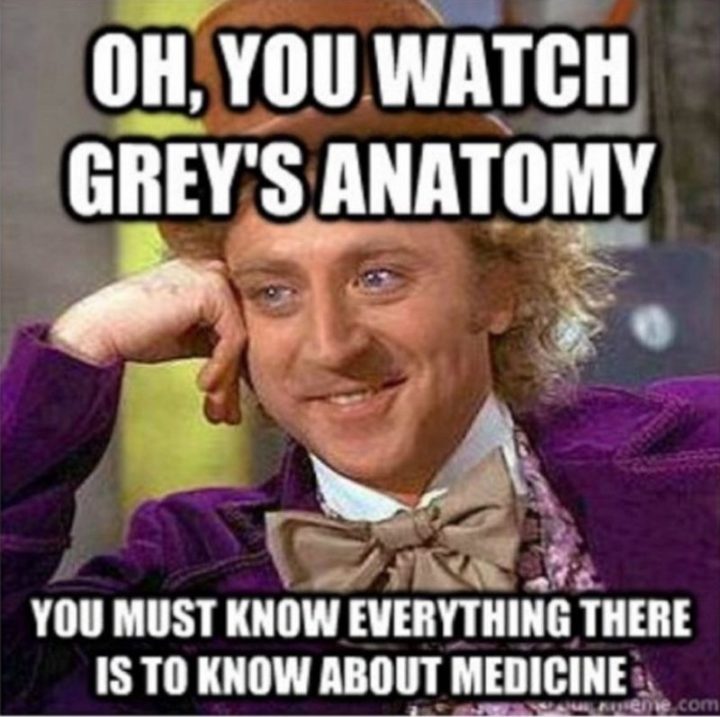 "Oh, you watch Grey's Anatomy. You must know everything there is to know about medicine."
23)
"Pronouncing drug names: Bloo. Blah. Blay."
24)
"Admiring your perfect IV on a hard stick no one else could get. I think this just might be my masterpiece."
25)
"When management finally acknowledges a fantastic nurse. It's been 84 years…"
26)
"When you finally finish a horrible shift and realize it was only the first of three."
27)
"I don't always take my medications, but when I do, I ask questions about every pill, and take them one at a time."
28)
"When you're burnt out from using the same exact joke with every patient."
29)
"When you're closer to your hospital family than your real family. We agreed that's how we would raise our kids. Our kids? Turk, we're not married. Dude, we're a little married. I know. I love it."
30)
"When you ask a patient one question and they give you their whole life story."
31)
"When you actually get a lunch break then get called back to the floor."
32)
"If I had a penny for every time someone told me my patient's IV is beeping after walking right by it."
33)
"Nurse's fidget spinner."
If you're looking for a fidget spinner of your own, here's our favorite! 🙂
Sale
Bellemain Premium Wing Corkscrew Wine Opener Heavy-duty nonstick
FOR THE TOUGHEST CORKSCREW | 100% LEAD-FREE ZINC ALLOY: When you get our corkscrew in your hands, you'll feel the difference: Our heavy-duty corkscrew's innovative alloy harbors greater strength and resistance to corrosion than traditional die-cast or metal.
ERGONOMIC EASY-GRIP DESIGN FOR EASY PULLING: Waiter's corkscrews usually require about 50-100 pounds of pulling force to extract corks. Bellemain's hand-friendly grips are shaped to ensure strainless uncorking: the butterfly dual-levered structure also makes opening incredibly simple and easy.
TREATED CORKSCREW SPIRAL | NO MORE CORK-CRUMBLING: Nobody likes picking out pieces of cork from their wine. Glide through corks without damage or crumbling with a triple-treated non-stick spiral. It glides through even the most stubborn corks.
ELEGANT, TIMELESS DESIGN WITH MIRROR FINISH: This Bellemain heavy-duty corkscrew has graceful, curved lines that are classic and contemporary. With a mirror-chrome finish and stylish case, keep this in your bar ready for any special occasion.
LIFETIME "UNSTUCK" GUARANTEE | NEVER BUY ANOTHER CORKSCREW: When you're happy, we're happy. That's why we honor your trust in our product with a no-holds-barred, anything-goes 100% lifetime replacement warranty.
34)
"Me agreeing to an extra shift at work vs me the morning of that shift."
35)
"When you've just come out of an isolation room, peeled everything off and they ring the call bell again."
36)
"You know you're a nurse when…discussing dismemberment over a gourmet meal is perfectly normal to you."
37)
"When people ask if I became a nurse to marry a doctor."
38)
"When a patient is pissed off cause you were busy and they had to wait a minute: But did you die!?"
39)
"Teaches patient about dangers of alcohol. Heads to the bar after clinical."
40)
"When you see someone using a pen you're 99.9% sure is yours."
41)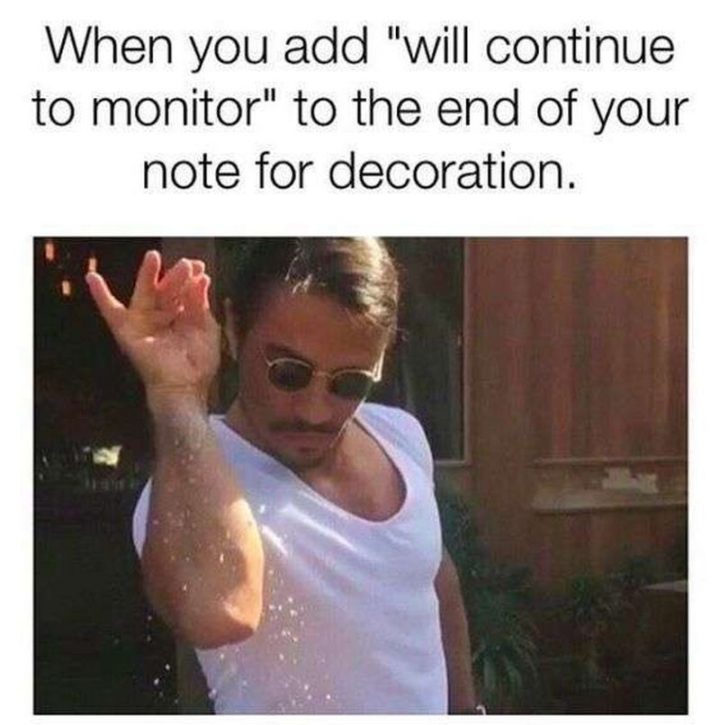 "When you add 'will continue to monitor' to the end of your note for decoration."
42)
"My face when a patient signs an AMA."
43)
"Patients be like these pain meds ain't doin' s***."
44)
"Become a nurse they said. It will be fun they said."
45)
"The look I give my patient when they're trying to get out of bed."
46)
"Charge nurse be like: You get a patient! And, you get a new patient! Everyone gets a new patient!!!!"
47)
"Clinical placements: May the odds be ever in your favor."
48)
"My coworkers and I after a doctor has a power trip."
49)
"Dear Lord baby Jesus, please let me pass these nursing finals."
50)
"When a doctor writes orders that are ridiculous."
51)
"Doctors be like, go buy these."
52)
"When a patient doesn't want to cooperate with any of the medication and treatment. Okay, get in."
53)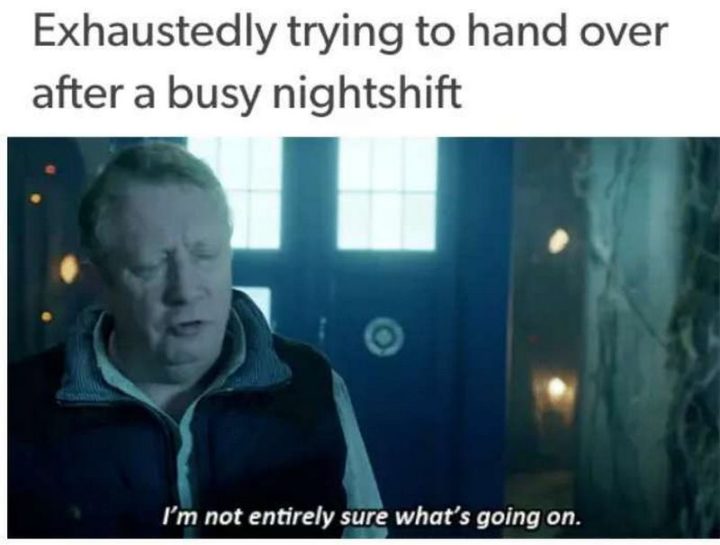 "Exhaustively trying to hand over after a busy night shift. I'm not entirely sure what's going on.
54)
"You expect the ER to immediately attend to your slight headache? Allow me to introduce you to the triage nurse."
55)
"My face when an intern gives me the most ridiculous orders I've ever heard."
56)
"When my fall risk patient assures me that they'll hit the call button before getting up and then later I catch them in the bathroom unattended."
57)
"Finals week? I'm a nursing memes major, I experience finals week every week."
58)
"Friends freak out over picking up dog poop. 'Try changing a colostomy bag.'"
59)
"Hey girl, you're pullin' on my chordae tendineae and it hurts so good."
60)
"The look I give when I'm completely overwhelmed."
61)
"When you go to say goodbye to the patient and they start making requests. Well, the little clock on the wall says we're just about out of time. God bless you, my friend."
62)
"Going to bed at 8:30 AM, and waking up at 3:30 PM. Yesterday was Tuesday, right? But today is Tuesday too!"
63)
"I had fun once, then I went to nursing memes school."
64)
"When I have to ask my coworkers for help. Do you want to place a Foley?"
65)
"Hey girl, blood is red. Cyanosis is blue. I get tachycardia when I think of you."
66)
"How I feel when I realize that my shift is over."
67)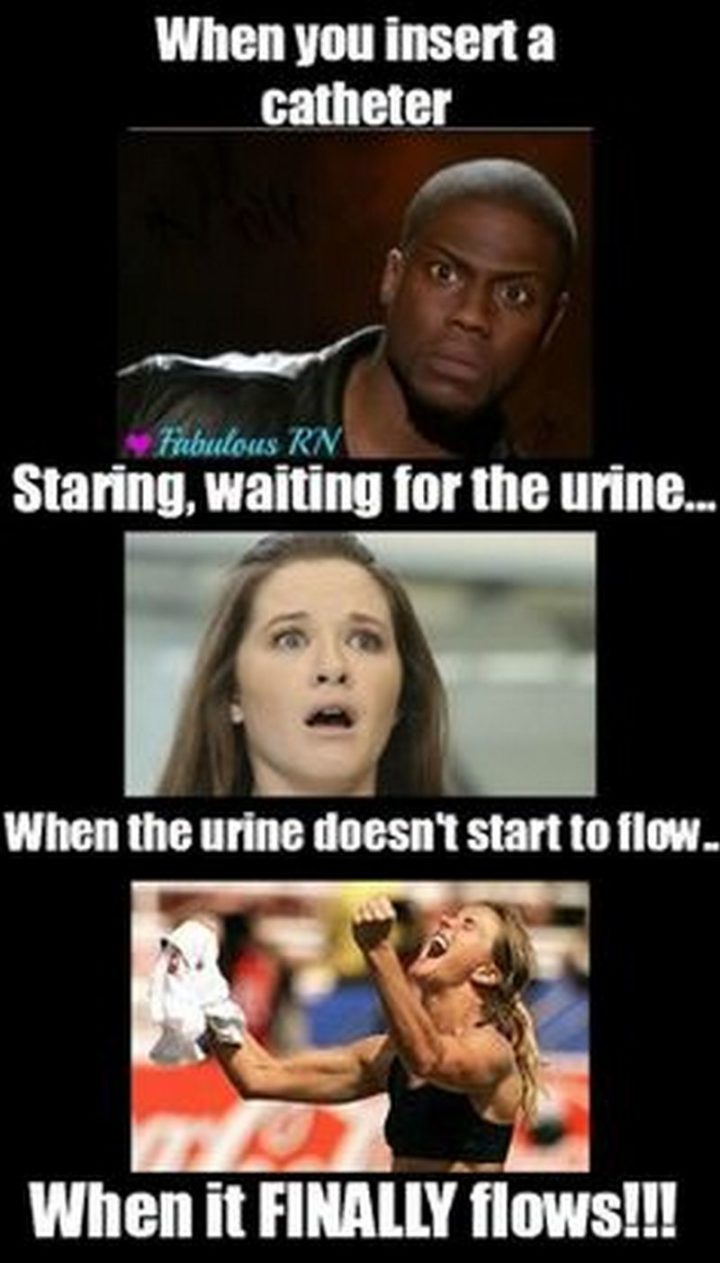 "When you insert a catheter. Staring, waiting for the urine…When the urine doesn't start to flow…When it FINALLY flows!!!"
68)
"Introducing yourself to your patients…My reign has just begun."
69)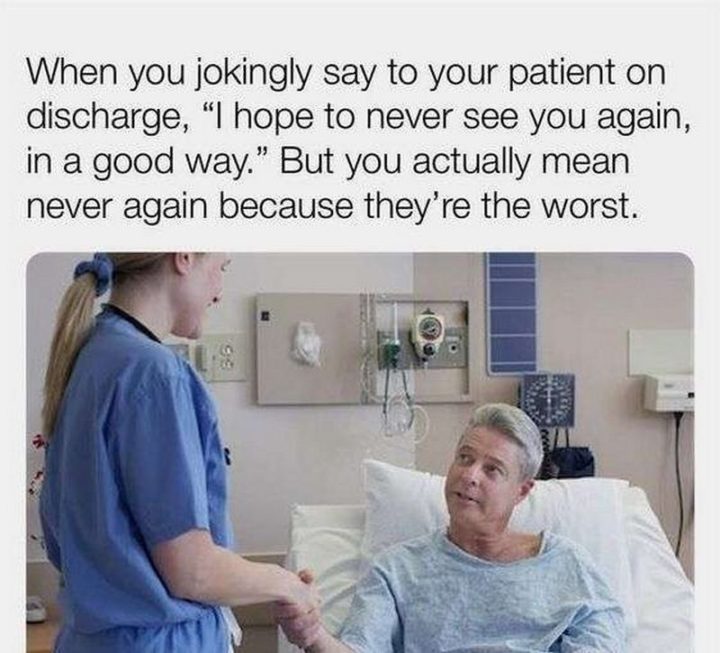 "When you jokingly say to your patient on discharge, 'I hope to never see you again, in a good way.' But you actually mean never again because they're the worst."
70)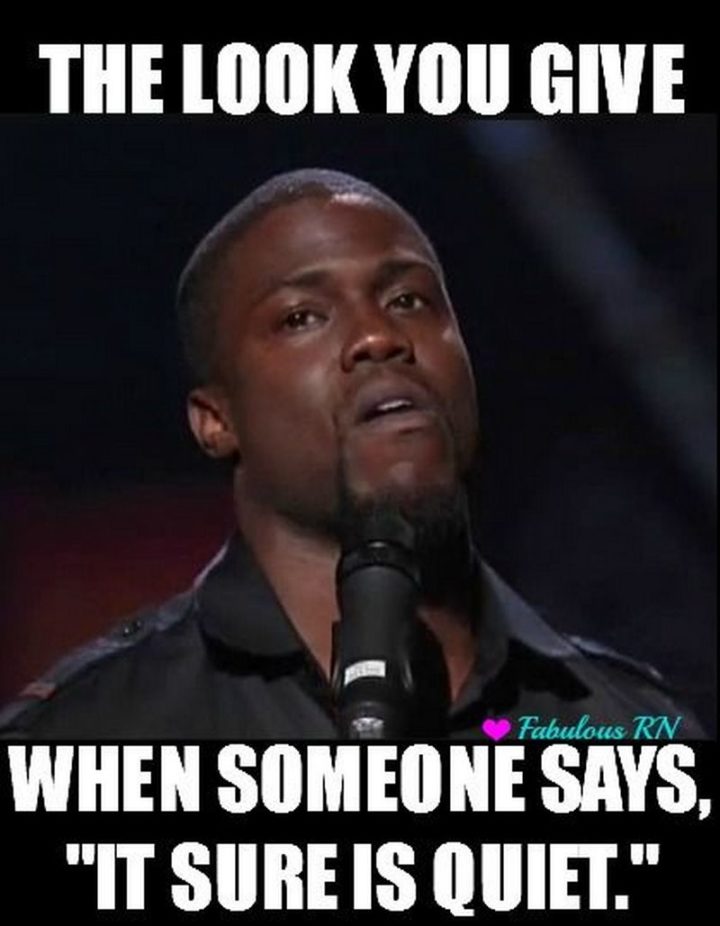 "The look you give when someone says, 'It sure is quiet.'"
71)
"When you manage to build a rapport with the patient who hates everyone…"
72)
"What men think dating a nurse will be like. What it's really like."
73)
"That moment when you draw blood from a patient after 15 people before you failed."
74)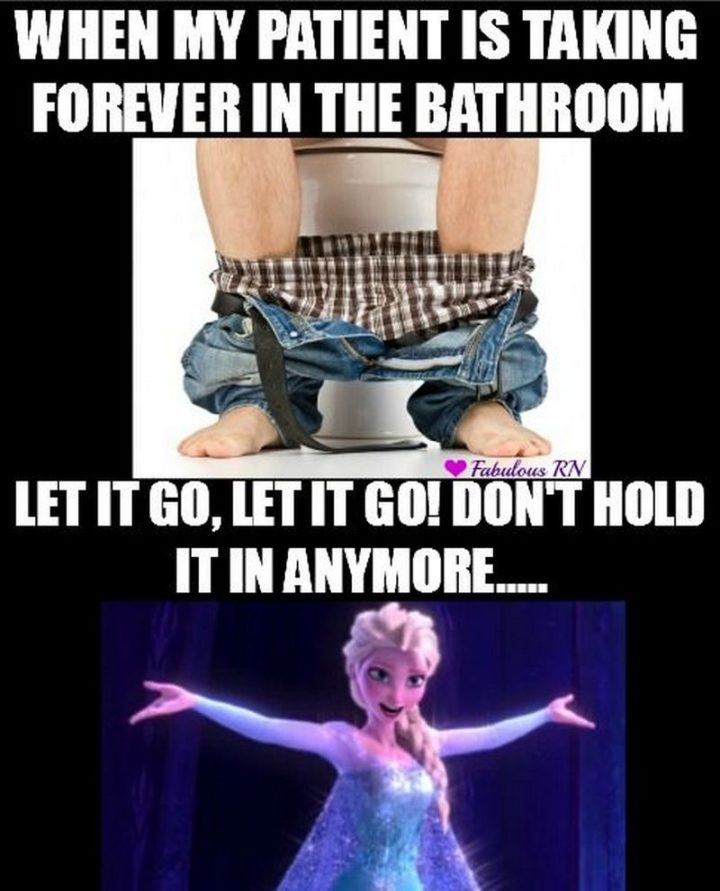 "When my patient is taking forever in the bathroom. Let it go, let it go! Don't hold it in anymore…"
75)
"Need somewhere private to talk. Pull curtains around the bed. Soundproof."
76)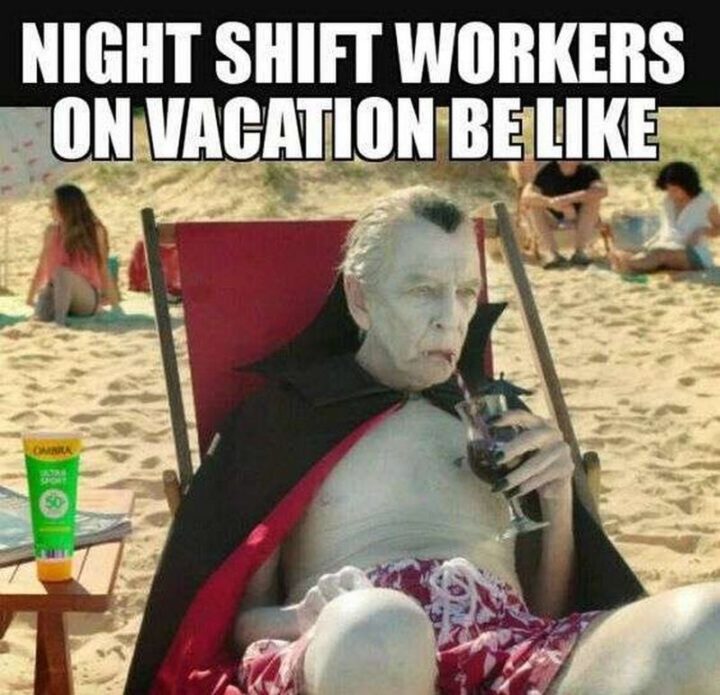 "Night shift workers on vacation be like."
77)
"I noticed you got that combative resident out of bed by yourself. I too like to live dangerously."
78)
"When the charge nurse has to send someone home. I volunteer!"
79)
"Nurses are like…Thank you Lord, that annoying family member left."
80)
"Nursing students, while that's correct, it's not the most correct."
81)
"When you offer to help someone with a bath and they say they aren't ready. Sorry, this is a limited time offer."
82)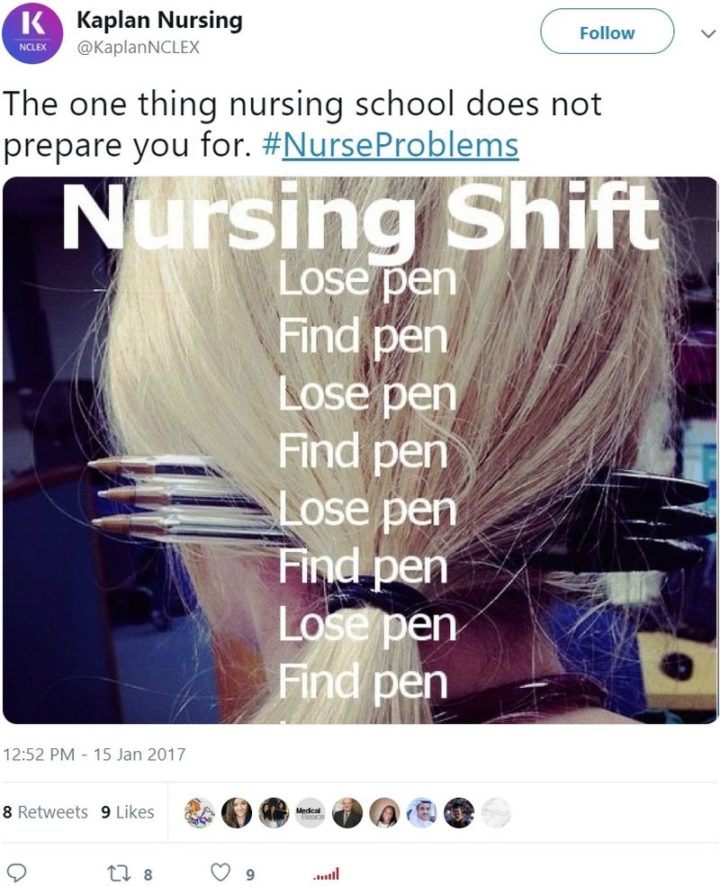 "The one thing nursing school does not prepare you for."
83)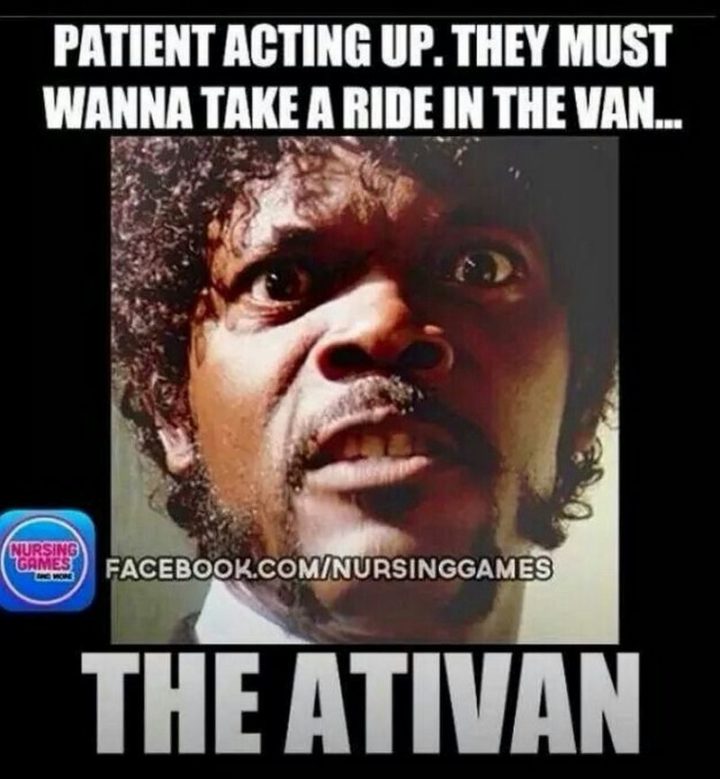 "Patient acting up. They must wanna take a ride in the van…The Ativan."
84)
"When people ask me why I chose nursing memes…It seemed like a good idea at the time."
85)
"When you get a report and all your patients are alert, oriented, independent."
86)
"When you're in a patient's room and they start having family drama."
87)
"When your screamer patient knows your name. He'll keep calling me. He'll keep calling me until I come over."
88)
"My face when I see a stage 4 ulcer. Holy $#!*."
89)
"Night shift nursing staff be like, 'It was a full moon last night.'"
90)
"Nurses sitting down. Clearly photoshopped."
91)
"So is your job just like Grey's Anatomy? Yeah, three doctors always ambulate my patients for me."
92)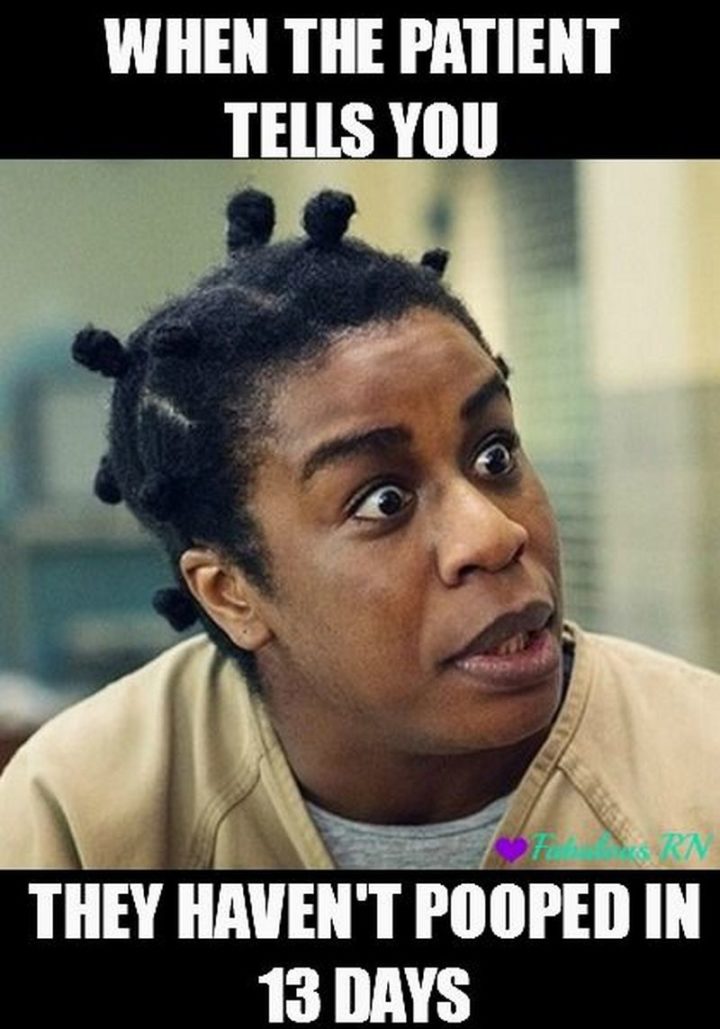 "When the patient tells you they haven't pooped in 13 days."
93)
"When you try to look cute but you don't know what to wear if it's not scrubs."
94)
"When I'm trying to start an IV and the patient's family is watching me. Don't look at me."
95)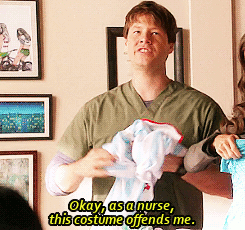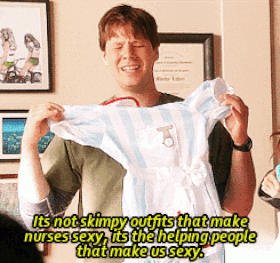 "Okay, as a nurse, this costume offends me. It's not skimpy outfits that make nurses sexy, it's the helping people that make us sexy."
96)
"Welcome to nursing memes school, where the tests are impossible and the clinicals don't matter."
97)
"What I hope my patient looks like. What my patient actually looks like."
98)
"When I come back into the room and the patient…is already soiled after cleaning them up 2 minutes ago."
99)
"Your written blood sugar log shows you have had good blood sugars lately. Your A1C test determined that was a lie."
100)
"When you've had 3 admits, no lunch, haven't peed in 10 hours, your patient pooped on your shoes and the charge nurse asks if you're okay: I'm fine!"
101) …and the last of the funny nursing memes.
"Giving up years of my life to add years to yours."
Please share these funny nursing memes with your friends and family.
Facebook Comments