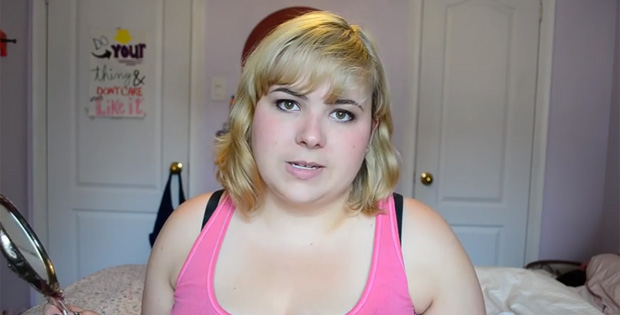 Most comedians would stay away from domestic violence jokes. Let's face it, nothing about domestic violence is funny. While social experiments like when young boys were asked to slap a girl raise awareness, more work needs to be done. But Megan MacKay is no ordinary comedian.
Comedian Megan MacKay decided to tackle the elephant in the room head-on with a video entitled "Ray Rice Inspired Makeup Tutorial" and isn't about jokes. Instead, it is possibly the best reaction that anybody has had in regards to the entire Ray Rice domestic violence situation.
Watch this Ray Rice inspired makeup tutorial by Megan MacKay. You won't regret it…
Domestic violence needs to end, period. Kudos to Megan MacKay for bringing comic relief to a very serious subject. If you need more information on domestic violence, please visit Signs of an Abusive Relationship, Women's Shelters in the U.S., and Women's Shelters in Canada.
Here are some of our favorite YouTube comments from this video, "Ray Rice Inspired Makeup Tutorial" by Megan MacKay:
"Best. thing. on. the. internet." – lohanthony
"I'm a guy feminist, and this brought me to tears. we need more people like this woman." – devgnclvs98
"Talking about such important and sensitive topics always brings out the worst in Youtube comments. Thank you for having the bravery to put this up even though the comments will almost certainly be terrible and rude. Stay in the love! (Also, this is the first video of yours that I've seen, and I love your editing style!)" – Chris Hyman
"OH my frigg'n G. So great. love, love, love. Social media #winning" – Susan Scrupski
"So at first I was really worried this was going in the wrong direction, but you completely smashed those fears and way exceeded expectations. We need more smart women like you on YouTube! Can't wait to see more!" – chescaleigh
"Omg, this is perfect! you did this so amazingly!! love it!" – staceybrennan
Please share this Ray Rice inspired makeup tutorial by Megan MacKay with friends and family.
Facebook Comments