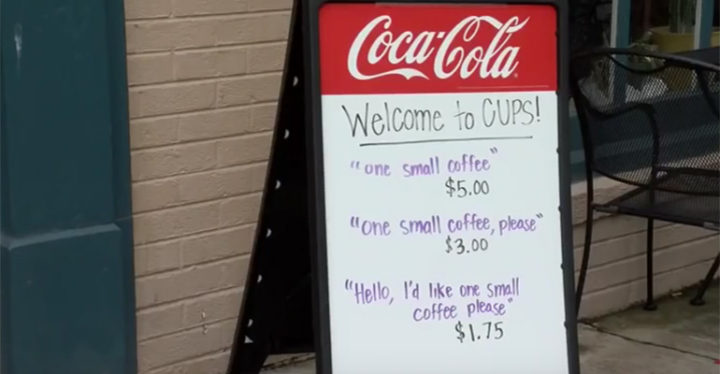 If you've ever worked in a restaurant, you know that some people are just plain rude. A CUPS Coffee & Tea worker in Roanoke, VA was tired of being treated like an object instead of a person and decided to do something about it.
He placed a sign outside the coffee shop and based his coffee prices on how polite the customer is when ordering. The price is $5 if you're impolite and $1.50 if you take the time to be courteous with the coffee shop worker.
CUPS Coffee & Tea Barista Austin Simms grew tired of rude customers and placed this sign outside his coffee shop.
Watch how a CUPS Coffee & Tea worker went viral because of a sign he placed outside his shop to teach rude customers a lesson…
Even restaurant servers can have a bad day but generally, restaurant servers are always friendly; therefore, shouldn't customers be friendly as well? Please share this excellent idea by a coffee shop worker to provide an monetary incentive for customers to be friendly with your friends and family.
Facebook Comments