As humans, we are hard-wired to care for others and while some events may make us lose our faith in humanity, we are caring people at our core. Every day, millions of people try to make the world a better place and some of these actions are captured in powerful pictures.
These powerful pictures demonstrate incredible acts of love, bravery, and the triumph of the human spirit. I hope you enjoy viewing them as much as I did curating them for this collection of inspiring and powerful pictures.
1) A 3-week-old infant with albinism snuggles up to his cousin for a nap.
2) A boy carries his dog to safety during a flood in the Philippines.
3) A Buddhist monk in Thailand graciously shares his meal with a tiger at the Kanchanaburi 'Tiger Temple'.
4) Diego Frazão Torquato, a 12-year-old Brazilian, tears up while playing the violin at his teacher's funeral. The teacher had helped him escape violence and poverty through music.
5) Christians protecting Muslims during prayer during the 2011 uprisings in Cairo, Egypt.
6) In 2011, this villager saved several stray cats by carrying them in a basket balanced on his head during massive floods in Cuttack City, India.
7) Before and after photo of father and son (1949 vs 2009).
8) A little boy playing his flute entertains a cat.
9) In 1987, Dr. Religa monitors his patient's vitals after a intensive 23-hour long heart transplant surgery. His assistant is resting in the corner.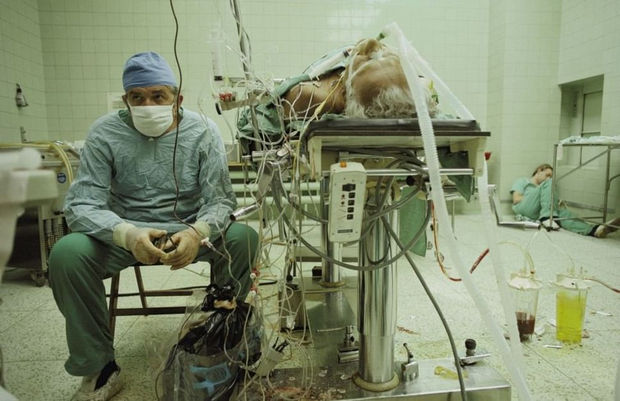 10) 100,000 monks in prayer for a better world.
11) A small Afghan girl holds the hand of an American soldier.
12) During a civil war in 1936, a journalist dashes across a bridge to rescue a baby.
13) Captain Donald Spindler saves 6-year-old Aaliyah Frazier from a fire in Indiana.
14) In 1967, 17-year-old Jan Rose Kasmir offers a flower to soldiers during the Pentagon anti-war protests.
15) A young girl carrying her baby in Morocco.
16) A boy pulling his toy double-decker across a London street in the 1960's.
17) Nancy Dinovo, a violinist, cries while playing during a service at Christ Church Cathedral in downtown Vancouver for the victims of 9/11.
18) Lt. Colonel Robert L. Stirm is reunited with his family after being taken prisoner during the Vietnam war.
19) Starving child in Uganda holding hands with a missionary.
20) 'For those I love I will sacrifice', the tattoo of wounded soldier Kyle Hockenberry becomes truth.
21) Children smiling and enjoying life behind the polar circle.
22) A Russian special troops soldier admiring a butterfly on his finger.
23) Caring passengers save a woman who tried to commit suicide while on a bus in China.
24) In 2009, A caring firefighter provides water to a koala during the devastating Black Saturday bush fires in Victoria, Australia.
25) After serving in Iraq for 7 months, Terri Gurrola is reunited with her daughter.
26) A Vietnam War protester inserting flowers into National Guardsmen's rifle barrels.
27) An Afghan man offers tea to soldiers.
28) Warren "Whitey" Bernard runs to his father, Private Jack Bernard, in one of the most famous war photos titled "Wait For Me, Daddy".
29) In 1994, a Russian soldier plays an abandoned piano in Chechnya.
Life truly is a beautiful thing and these raw and emotional photos reminds us all how precious life can be. Please share these powerful pictures with your friends and family.
Facebook Comments