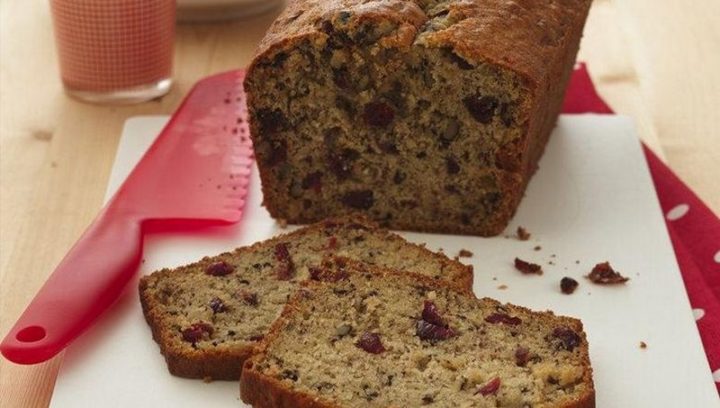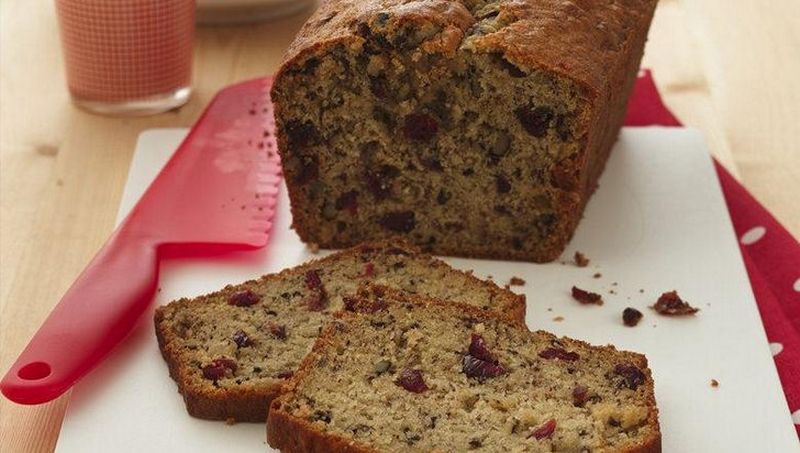 There are tons of classic banana bread recipes but the great thing about banana bread is its versatility. You can add nuts, dried fruit, chocolate chips, and nearly anything else you can think of. This version provides a new twist on banana bread recipe by using cranberries!
Preparation Time: 15 minutes
Total Time: 2 hours and 20 minutes
Servings: 16
Cranberry Banana Bread Ingredients
3/4 cup sugar
1/2 cup margarine or butter, softened
2 eggs
1 cup mashed ripe bananas (2 medium)
1/3 cup fat-free (skim) milk
1 teaspoon vanilla
2 cups all-purpose flour
1/2 cup dried cranberries
1/2 cup chopped nuts, if desired
1 teaspoon baking soda
1/2 teaspoon salt
Directions
Heat oven to 350°F. Grease bottom only of 9×5- or 8×4-inch loaf pan with shortening or cooking spray. In a large bowl, beat sugar and butter with spoon until light and fluffy. Beat in eggs. Stir in bananas, milk, and vanilla until well blended.
In a small bowl, mix flour, dried cranberries, nuts, baking soda, and salt. Add to banana mixture all at once; stir just until dry ingredients are moistened. Pour into pan.
Bake 50 to 60 minutes or until a toothpick inserted in center comes out clean. Cool 5 minutes; remove from pan. Cool completely, about 1 hour. Wrap tightly and store in the refrigerator.
If you enjoy quick bread, try this delicious ice cream bread recipe. Please share this scrumptious cranberry banana bread recipe with your friends and family.
Facebook Comments