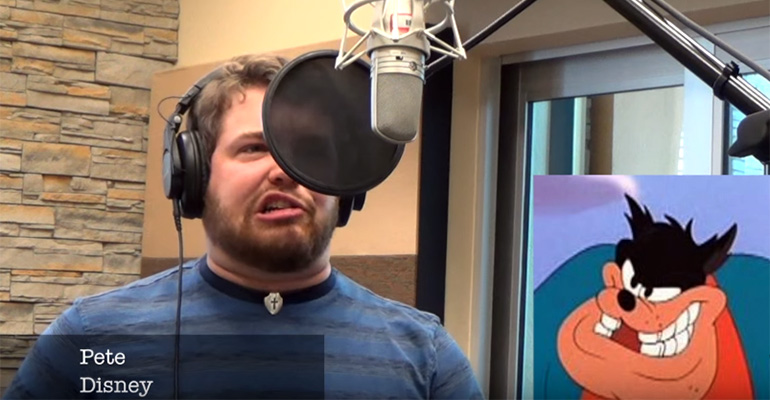 If there is one song that stands out from Disney's smash hit 'Frozen', it would have to be 'Let It Go'. It was sung by the talented Idina Menzel in the movie. It has been covered thousands of times and one fan even built a 'Let It Go' Christmas lights show.
YouTuber Brian Hull is a master of impersonations and he brilliantly sings the Frozen hit song as 21 Disney and Pixar characters. He seamlessly switches from one Disney or Pixar character to the next and doesn't miss a beat. Even more amazing is that he pulled it off in one single take.
Watch Brian Hull Perform 'Let It Go' in 21 Disney and Pixar character voices…
Here are some of our favorite YouTube comments from this video, "Disney and Pixar Sings Let It Go" by Brian Hull:
"Disney must spend millions of dollars on actors to do different voices for each character, hell save your money and just employ this guy." – Alex Shaw
"Dude, can you PLEASE go on America's Got Talent? PLEASE." – Julia Peden
"Upcoming Disney Movie, Cast: Brian Hull, Brian Hull, Brian Hull, and Brian Hull" – Boby Primadiansyah
"Brian: Sings all the Disney voices known to man Disney: Bro wtf." – Mist
"If you watch this in 2020 You are legend." – Marko Djura
"Ursula: Give me your voice Brian: Which one?!?" – M A
"Can we just talk about the fact that not only can this guy easily shift between wildly different voices that sound like carbon copies of their voice actors, but also carry beautiful notes in them? I aspire to be as great as Brian." – Terry TheTeryx
No matter who your favorite character is, Brian impersonates some of the most beloved Disney and Pixar characters ever. Please share this version of 'Let It Go' sung by Disney and Pixar characters with your friends and family.
Facebook Comments