Camping as a kid was great and it was terrific to be able to spend time with family during summer vacation and it didn't cost very much. A tent is really all you needed and while I will ALWAYS choose this over expensive camping trailers, they sometimes are time-consuming to install and bulky if you want to explore nature.
Lawson Hammock Blue Ridge Camping Hammock and Tent (Rainfly and Bug Net Included)
RATED #1: By Backpacker, Outside and American Survival Guide. Winner of the prestigious Gear Of The Year Award.
HAMMOCK AND A TENT IN ONE: Patented design with a unique arch pole/spreader bar system that allows for use suspended between two objects/trees as a hammock or on the ground as a tent/bivy.
USE ANYWHERE: Most versatile tent hammock in the world. Perfect for all types of camping; car camping, backpacking, bike camping, Scouting, kayak/canoe camping or even lounging bug-free in the backyard.
HAMMOCKING COMFORT REDESIGNED: Design keeps hammock bed flatter, eliminating much of the "cocoon/banana" effect created by other hammocks. Sleep on your side, roll over and wake up without an achy back!
EASY SETUP, LIGHT WEIGHT, WATERPROOF & BUG-FREE: Has detachable/waterproof rainfly, bug netting (straps sold separately/works w/all types of straps or webbing/rope). Packs to 22"x6", 4.25lbs w/poles, rainfly/netting/bag. Setup only a few minutes.
This amazing hammock tent by Lawson Hammock (check price on Amazon) is unique because it's a combination of a tent and a hammock and installation simply involves securing it between two trees. Because it is so lightweight and portable, it is adaptable to any terrain because it doesn't need to be secured into the ground like a normal tent.
1) You've probably experienced this view when waking up if you love the great outdoors but this is no ordinary tent.
Meet the Blue Ridge Camping Hammock. It's a tent that doubles as a hammock so you can set it up anywhere during any season.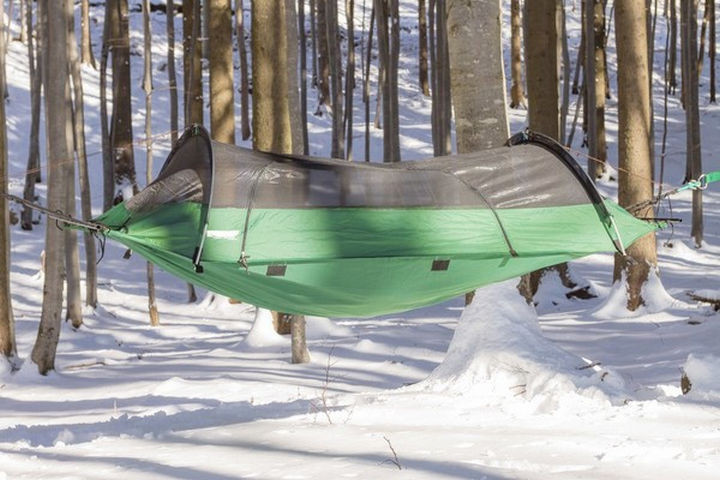 Hammocks are comfortable and so is the Blue Ridge Camping Hammock. All you need is a couple of trees to secure it and you're good to go!
Because it suspended in the air, you can literally sleep anywhere…comfortably.
It is weather resistant and also comes with a rain fly for rainy nights. Fine netting also keeps insects out for a peaceful night's sleep.
If you're hiking and portaging, it weighs only 4 pounds and stores compactly.
They also can be set up like a normal tent if you find a spot with a soft cover.
Even if you're not camping or hiking, they make a very comfortable hammock for the beach.
Camping with a tent doesn't get any more comfortable than this.
It's so comfortable that other family members might decide to take a nap in your tent 🙂
Sleep under the stars in total comfort with the Blue Ridge Camping Hammock build by Lawson Hammock Company.
H/t: LittleThings
Don't get fooled into thinking that camping needs to be expensive. It's incredibly cheap and lots of fun if you do it right.
Please share the Lawson Hammock tent and get your family and friends excited about camping.
Facebook Comments