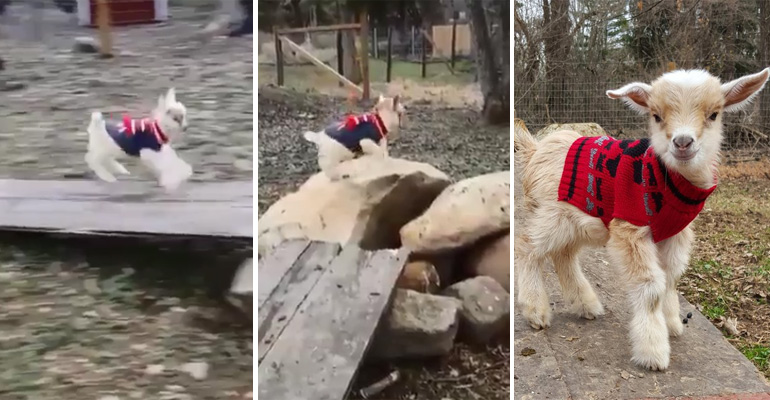 It's no secret that goats are incredible climbers and goats always hit their mark when scaling mountains or when jumping along near-vertical cliffs. But one little goat named 'Baby Prospect' may just have jumped his way into my heart and he will jump his way into yours too!
This cute little fella is having the best time of his life jumping around in his tiny sweater and he isn't afraid to show us that he is one happy goat. Twitter users Goats of Anarchy recently posted some videos of Baby Prospect jumping around and having fun and they even have one where he's all tuckered out and falling asleep.
Baby Prospect is a happy goat that likes to have fun!
Little jumpman pic.twitter.com/HpBeRCynML

— Goats of Anarchy (@goatsofanarchy) December 27, 2015
Even when at the hardware store, he always finds something to climb 🙂
Baby Prospect had fun @TractorSupply today!! pic.twitter.com/rvs9dxygsB

— Goats of Anarchy (@goatsofanarchy) December 30, 2015
He is even cute when he's taking a nap after all that jumping!
Sweet dreams baby pic.twitter.com/vtFQVNr9xt

— Goats of Anarchy (@goatsofanarchy) December 21, 2015
Sweet dreams, little Baby Prospect and be sure to visit Goats of Anarchy's Instagram and Twitter accounts for more adorable photos and videos of Baby Prospect! Please share these adorable videos of Baby Prospect showing off his adorable happy dance with your friends and family.
Facebook Comments