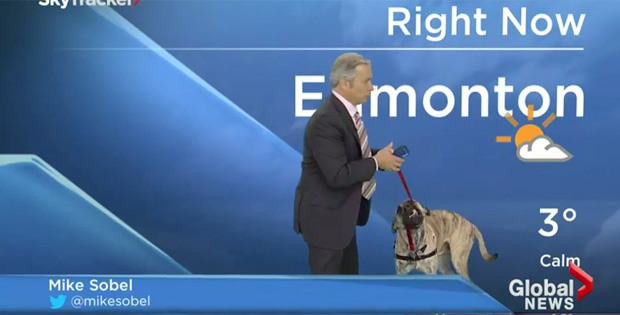 We have to hand it to Mike Sobel, local weatherman on Global News in Edmonton, Alberta, Canada. He thought he'd bring a beautiful dog during his live weather forecast but he got a lot more than he bargained for.
The dog is an 18-month-old mastiff mix named Ripple and he doesn't care about the weather forecast. He was brought on set to raise awareness for animal adoption but instead he wanted to play! The weatherman really does a great job to try and give the weather forecast while keeping Ripple under control but it proves to be a challenge.
Watch this weatherman and Ripple the dog give one of the funniest weather forecasts ever!
That poor weatherman is such a sport but who can say no to Ripple, he's just a pooch who wants to play. Please share one of the funniest weather forecasts ever with your friends and family.
Facebook Comments