What better day to relax than Sunday! I mean, while creating heaven and earth, even God took a day off on the seventh day, Sunday, to chill. All work and no play makes Jack a dull boy, right? While Sunday is meant to relax, why not feel inspired at the same time with inspiration from Sunday quotes?
The following 47 funny or inspirational Sunday quotes offer everything from inspiration to a laugh. Enjoy them on a Sunday morning or evening and you won't regret it.
1) Let the Sunday quotes begin!
"A Sunday well spent brings a week of content." – Unknown
2) Reconnect with inspirational Sunday quotes.
"After a week of the contained chaos that is my job, I need some solitary running time. On Sundays, I can unwind and reconnect with the natural world." – Linda Jones
3)
"Although I understand that all days are equal with 24 hours each, most of us agree that Friday is the longest day of the week and Sunday the shortest!" – D.S. Mixell
4)
Folk quote: "And of a Sunday swarm the folk, Under the honeysuckle vine, Quaffing, the while they talk and smoke, The sun, the melody, the wine." – Théophile Gautier
5) Sunday morning quotes for early birds.
"Be in the habit of getting up bright and early on the weekends. Why waste such precious time in bed?" – Marilyn vos Savant
6) Do nothing and chill with funny Sunday quotes.
"Sunday checklist. Do nothing & chill." – Unknown
7)
"The city takes a breath on Sunday. Of all that's lost with the pursuit of what's next, I hope we don't lose that…" – Hawksley Workman
8)
Business quote: "Compassion is a lifetime business. You can't say something like, "I will have compassion on Monday, Thursdays, and Fridays only. But for the rest, I will be cruel". That is hypocrisy." – Israelmore Ayivor
9) Have a coffee and relax with Sunday morning quotes.
"Sunday is the day when I prepare for the week ahead by making improbable To-Do lists and browsing Pinterest for ideas on how to decorate my imaginary mansion." – Nanea Hoffman
10) Sunday quotes with images of relaxation.
"Do not waste a single Sunday. If you don't waste Sundays, you will be less likely to waste Mondays, Tuesdays, and Wednesdays." – Matthew Kelly
11) Wishing you love and luck with Sunday quotes.
"Each spice has a special day to it. For turmeric, it is Sunday, when light drips fat and butter-colored into the bins to be soaked up glowing when you pray to the nine planets for love and luck." – Chitra Banerjee Divakaruni
12) Inspirational Sunday evening quotes.
"Sunday evenings often feel like the weekend is over before it's even begun." – Catherine McCormack
13) Fill your day with love and Sunday quotes and images.
"This Sunday may your day be filled with love, light, and happiness." – Unknown
14) Funny Sunday quotes for homebodies.
"The goal of Sunday is to leave my home as little as possible." – Mark Morris
15) Beautiful Sunday quotes and images.
"Sunday is the golden clasp that binds together the volume of the week." – Henry Wadsworth Longfellow
16)
"Sunday is all about relaxing. Happiness will be overloaded when you will do the desired things you want to do." – Unknown
17)
"Happy Sunday. Count your rainbows, not your thunderstorms." – Unknown
18) Not everybody likes funny Sunday quotes!
"I hate Sunday, and I don't think I'll ever get over it. But I'm going to try." – Frank D. Gilroy
19) Blessed and beautiful Sunday quotes and images.
"Have a blessed and beautiful Sunday." – Unknown
20) Sunday afternoon quotes are pure happiness.
"Happiness is a hot bath on a Sunday afternoon." – A.D. Posey
21)
"SUNDAY. The day…I planned a lot but actually do nothing." – Unknown
22) Gotta love funny Sunday quotes.
"If your Sunday doesn't involve wine & yoga pants you're doing it wrong." – Unknown
23)
"Sunday is the perfect day to refuel your soul and to be grateful for each and every one of your blessings." – Unknown
24) Relax with Sunday morning quotes.
"It's Sunday, therefore I am 100% motivated to do nothing today!" – Unknown
25) More Sunday morning quotes for a happy Sunday.
"Let go of all the worries and anxiety in order to be light and free. Have a happy Sunday." – Unknown
26)
"May your Sunday be blessed with love, joy, peace, and happiness." – Unknown
27) Rainy Sunday afternoon quotes.
"Millions long for immortality who don't know what to do with themselves on a rainy Sunday afternoon." – Susan Ertz
28)
"Sunday is my favorite day." – Emma Caulfield
29)
"Do not let Sunday be taken from you. If your soul has no Sunday, it becomes an orphan." – Albert Schweitzer
30)
Darkness quote: "O holy Sunday, let your darkness not come along my way. Let her nurture the internal and external world, as I start my personal day." – Santosh Kalwar
31) Sunday morning quotes with a nice cup of coffee.
"On this lovely Sunday, remember to take a deep breath and relax. Enjoy your family, your friends, and indulge yourself in a nice cup of coffee." – Unknown
32)
Comfort quote: "Is there any place on Earth that smells better than a laundromat? It's like a rainy Sunday when you don't have to get out from under your covers, or like lying back on the grass your father's just mowed – comfort food for your nose." – Jodi Picoult
33)
"Poetry is truth in its Sunday clothes." – Philibert Joseph Roux
34) Sitting with Sunday evening quotes.
"Sitting with her on Sunday evening – a wet Sunday evening – the very time of all others when if a friend is at hand the heart must be opened, and everything told…" – Jane Austen
35) Soothing Sunday quotes and images.
"Sometimes I have loved the peacefulness of an ordinary Sunday. It is like standing in a newly planted garden after a warm rain. You can feel the silent and invisible life." – Marilynne Robinson
36) Be strong and courageous with inspirational Sunday quotes.
"Be strong and courageous! Do not be afraid or discouraged for the LORD your God is with you wherever you go." – Joshua 1:9
37) Sunday inspiration with quotes and images.
"Sunday clears away the rust of the whole week." – Unknown
38) Be positive with inspirational Sunday quotes.
"Sunday Thought! Surround yourself with positive people, who'll give you bright emotions, and Sunday will be unforgettable! – Unknown
39)
"Sunday. Take it slow and give your soul a chance to catch up with your body."
40)
"It's not that we spend five days looking forward to just two. It's that most people do what they enjoy most in those two days. Imagine living a life where every day is your Saturdays and Sundays. Make everyday your weekend. Make everyday a play-day…" – James A. Murphy
41)
"Sunday, the day for the language of leisure." – Elfriede Jelinek
42) Learn something new with inspirational Sunday quotes.
"There is always something new to learn and feel each Sunday." – Bishop Gérald Caussé
43) Thank God for Sunday quotes and images.
"On this Sunday, let us take a few moments to stop and thank God for all of the beauty that is in this world." – Unknown
44) Oh no! We've almost reached the end of Sunday quotes…
"Sunday is a time when you sit back and reflect on all the blessings that you have received. Smile at all the good things that you are enjoying." – Sera Train
45)
"Sunday was always the best of days for being the self you had intended to be, but were not, for one reason or another." – Jesse Ball
46) Funny Sunday quotes with Calvin and Hobbes.
"Weekends don't count unless you spend them doing something completely pointless." – Bill Watterson
47) Tackle the world with inspirational Sunday quotes and images.
"Sunday is the best day. You know you had an amazing week. Time to recover and think how you gonna kill the next one." – Unknown
Time for Sunday brunch and a mimosa! I hope you enjoyed these funny and inspirational Sunday quotes!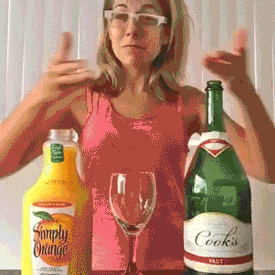 Please share these Sunday quotes with your friends and family.
Last update on 2021-05-08 / Affiliate links / Images from Amazon Product Advertising API
Facebook Comments