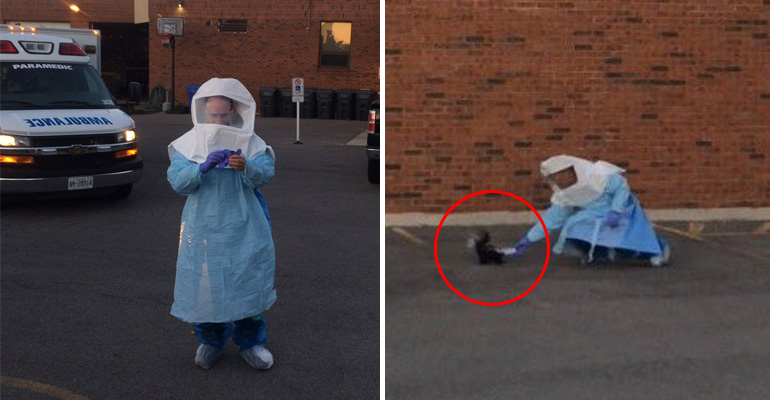 Paramedics do an amazing job helping people in distress but their rescue efforts aren't limited to human! A poor skunk in Toronto, Ontario found itself with a cup stuck on its head and it couldn't see where it was going.
When a brave paramedic, Justin Mausz, noticed the skunk bumping into this things, he knew he had to do something. To prevent himself from getting sprayed, he wore an Ebola suit knowing that if it could prevent from getting Ebola, it would provide the best protection from getting sprayed.
Paramedic in Peel noticed a poor skunk had a cup on its head and kept bumping into things.
An earlier video of our "Patient", the poor thing was bumping into walls when we found it. @Peel_Paramedics pic.twitter.com/gKWc7tDuyX

— Justin Mausz (@Prof_Dewey) August 7, 2016
He wore an Ebola suit to protect himself from getting sprayed and successfully saved the poor little skunk.
Our 'Rescue' this morning: a skunk with a cup stuck on its head @Peel_Paramedics help all sorts of "Patients" pic.twitter.com/HMd8zuwx9Q

— Justin Mausz (@Prof_Dewey) August 7, 2016
H/t: CBC
It's almost as though the skunk knew it was in trouble and wanted some help and thanks to this patient and skillful paramedic, he built some trust with the animal. According to his twitter page, Justin is going to grad school and felt this was a perfect end to his time with Peel Paramedics.
Please share this brave paramedic who took the time to save a little skunk in distress with your friends and family.
Facebook Comments