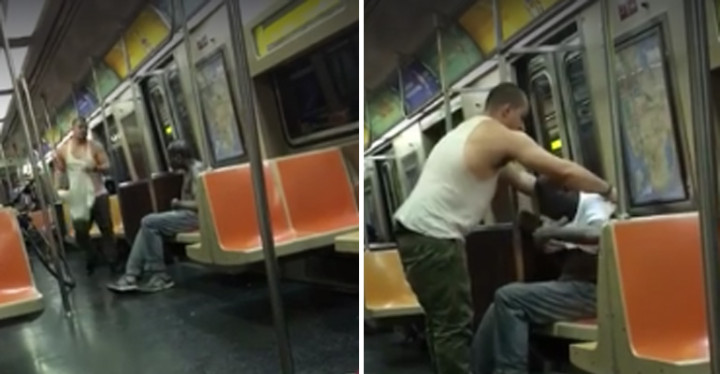 When someone notices a homeless person in need, most people will do one of two things: they will do nothing OR they will open up their hearts and do whatever they can to help. I choose to do the latter. I think most people would too including a heartwarming person who helped a homeless person in need in the following video.
On a cold day in New York City, a stranger on a subway approached a homeless man and offered him a shirt. Because the elderly man had problems with mobility, he even helps him put the shirt on. He finishes it off by giving him a warm knitted hat.
Watch this man literally give the shirt off his back to a homeless person on an NYC subway…
#1 Beautiful moment in the NYC subway ????Miren este Video Wow ???? Este hombre se merese muchas bendisiones por la buena accion que Hizo ?? Dios Lo bendiga amen☺️ y aPrendan ? y Lo hizo sin esperar nada acambio ????☺️ nesesitamos más personas como el ? SI ALGUIEN LO CONOSE ETIQuETELO ? ??? God bless both ?•• That was nice of that men to help that old men. God is going to blessed that menJukin Media Verified (Original) * For licensing / permission to use: Contact – licensing(at)jukinmediadotcom

Posted by Läzaro El Feo on Friday, January 8, 2016
Facebook
Just like this mother of 3 that has a job at Modell's Sporting Goods but lives in a homeless shelter, homelessness can happen to anyone. It's people performing random acts of kindness that restore your faith in humanity. We are all human and our basic instinct should be to help those in need and this man did just that and he should be commended.
Please share this beautiful stranger sharing his clothes with a homeless person with your friends and family.
Facebook Comments