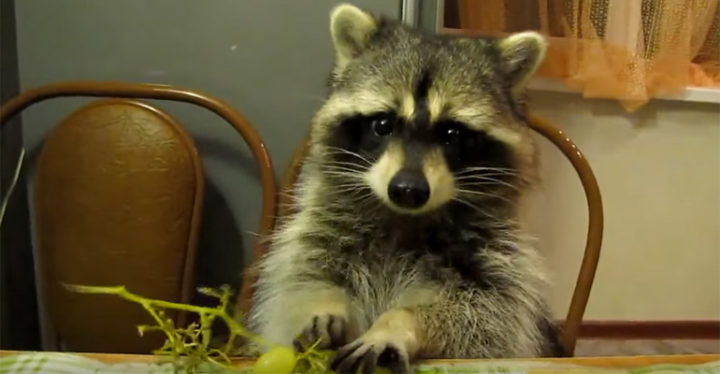 Wild animals like raccoons love to eat food. They might even tackle the neighbor's trash can with their tiny fingers to fetch table scraps. One lucky raccoon got an opportunity to sit at the kitchen table and eat some sweet and delicious grapes.
Watching cute raccoon eating grapes is oddly satisfying and you can't resist but smile when you see it picking out grapes with its tiny fingers. At one point, you have to wonder if he asked for a second helping of tasty grapes!
Watch a raccoon eating grapes with his little hands…
This little raccoon is adorably cute and loves eating his grapes at the dinner table. While raccoons are wild animals, they sometimes need our help like this raccoon that lay helplessly in the water until it was rescued by boaters.
Some of our favorite YouTube comments about this raccoon eating grapes:
"Chew with your mouth closed! What are you, an animal?" by U Wot M8
"This cures depression." by Crystal R
"I like how this raccoon is just like a guest at this dinner table. Seated at the table just eating grapes with his little hands." by RebelCosmonaut
"I've finally found it. The purest video on the Internet." by Autumn
"Ha, he thinks he's people." by MrDeadInMyPocket
"With his little hands he does it what a precious;-;" by Gavin The Spleen
"This is the best video I have ever seen." by Amber Maruszewski
"Look at his little hands." by narwhalfuturism91
"Cool trash panda bro." by Mantis Outdoors
"I was having a bad day. and then I watched this. <3" by Dahlia Lynn
"Loving this sneak peek of Guardian of the galaxy 3." by Xenówólf Shiró.
"Quality content." by elizabeth
"I like how the raccoon has the manors to sit at the table." by Snow Bunneh
Please share this cute raccoon eating grapes with your friends and family.
Facebook Comments