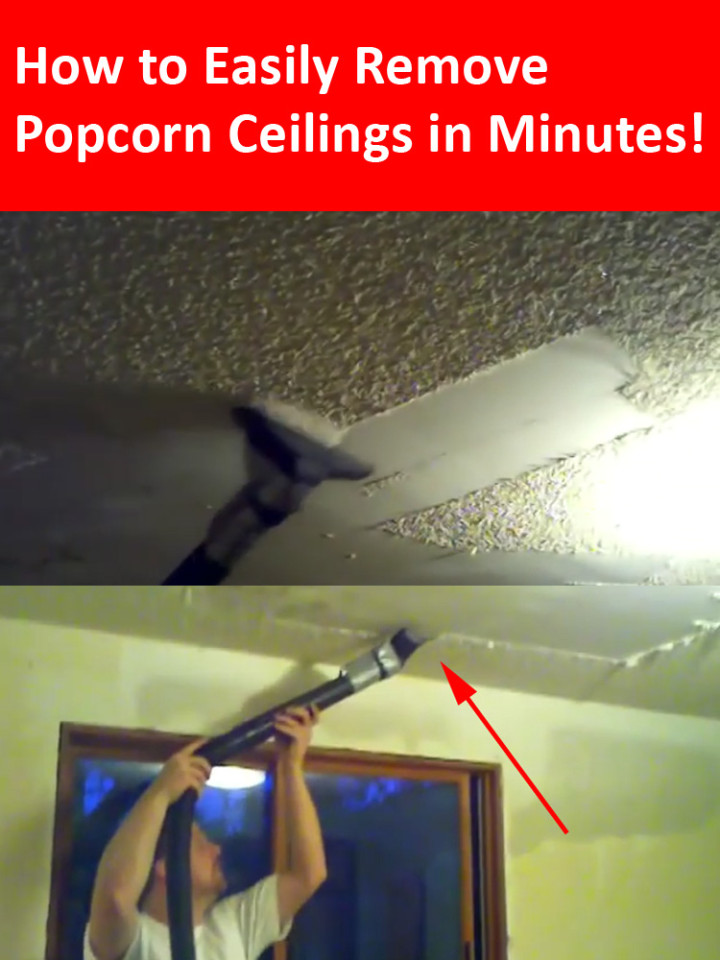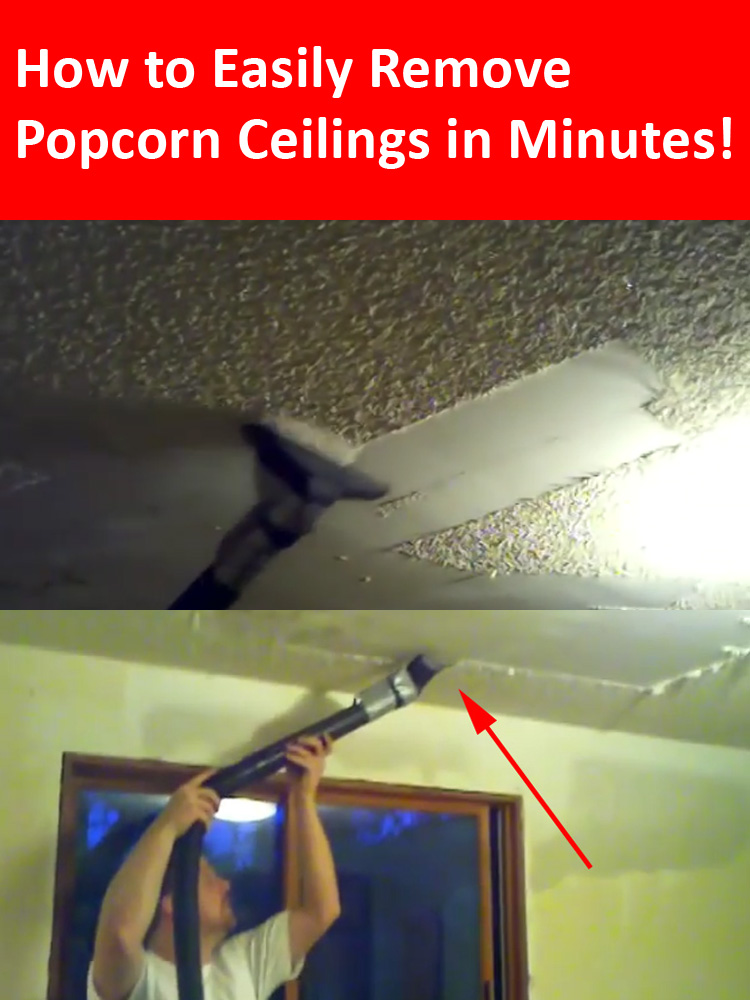 If your home has "textured" or popcorn ceilings, you may find yourself wanting to remove it but typical popcorn ceiling removal is a lengthy process. Some people spray the area with a water bottle and scrape it off once it softens but this can be messy since it usually ends up on the floor.
Aaron Rollins might have come up with the best hack ever to remove popcorn ceilings and it requires only a few supplies. He duct taped a wide putty knife to the end of a vacuum hose and the suction removes all of the particles after he scrapes them off. You have to see this in action and once you do, you may never need to find an easier way to remove popcorn ceilings.
What's his secret to easily remove popcorn ceilings without making a mess?

As you can see in the image above, he duct taped a 6-inch putty knife (also called a spackling knife) to the end of a Shop-Vac nozzle to easily remove popcorn ceilings without making a mess. To further eliminate dust in the house, he has the vacuum exhaust hose expelling all debris outside.
Popcorn ceiling removal made easy…Watch and see for yourself!
Here are some additional popcorn ceiling removal tips:
You can easily do this without spraying your ceiling first as the putty knife scrapes through with ease. But if you want to reduce dust particles and make it even easier to scrape through, taking the time to spray your ceiling first will make a difference.
To further reduce dust, most shop vacs have an attachment for an exhaust hose. As you can see in the video, an exhaust hose is blowing debris outside via the window which will further prevent dust from blowing around in your home.
To recap, all you need are 3 tools and supplies to get the job done and all of them are available at your local hardware store or Amazon.
1) A Shop-Vac vacuum or any vacuum that has an exhaust and a good, powerful motor. Check this post to find the most appropriate shop-vac for your need.
Shop-Vac 5989300 5-Gallon 4.5 Peak HP Stainless Steel Wet Dry Vacuum
HEAVY DUTY CLEANING: This wet/dry vacuum features a 5-gallon stainless steel tank & a 4.5 peak horsepower motor. The full circumference dolly makes it maneuverable, & top & side carry handles & onboard cord & accessory storage enhance its portability.
VERSATILE ACCESSORIES: This wet/dry vac features a positive lid latch & rear blower port, plus these 1.25 " diameter accessories: 7-foot hose, 3 extension wands, crevice tool, gulper nozzle, floor nozzle, plus cartridge filter, foam sleeve & filter bag
POWERFUL & ADAPTABLE: Our wet/dry vacs are your all-in-one solution for everything from household messes to heavy-duty workshop cleanup, featuring a wide selection of adapters, filters & accessories that make our vacuums a versatile tool for any task
LIVE, WORK, PLAY: Our wet-dry vacs were made to take on life's messes at the jobsite, home, car or workshop. They come with a variety of accessories, including filters, hoses & attachments for pet groomers, car detailers, landscapers, homemakers & more
SUPERIOR QUALITY: Our all-in-one multi-surface wet/dry vacuums and accessories are created for power, efficiency and convenience. Compare our vacuums to similar products by Ridgid, DeWalt, Stanley, Bissell, Crosswave, Craftsman, Workshop or Vacmaster.
2) A six-inch spackle or putty knife with preferably a steel blade.
3) And duct tape to secure the putty knife to the end of the vacuum nozzle.
Sale
I would never have expected popcorn ceiling removal to be this easy and without creating a mess all over the place! Please share this incredible hack for easily removing popcorn ceilings with your friends and family.