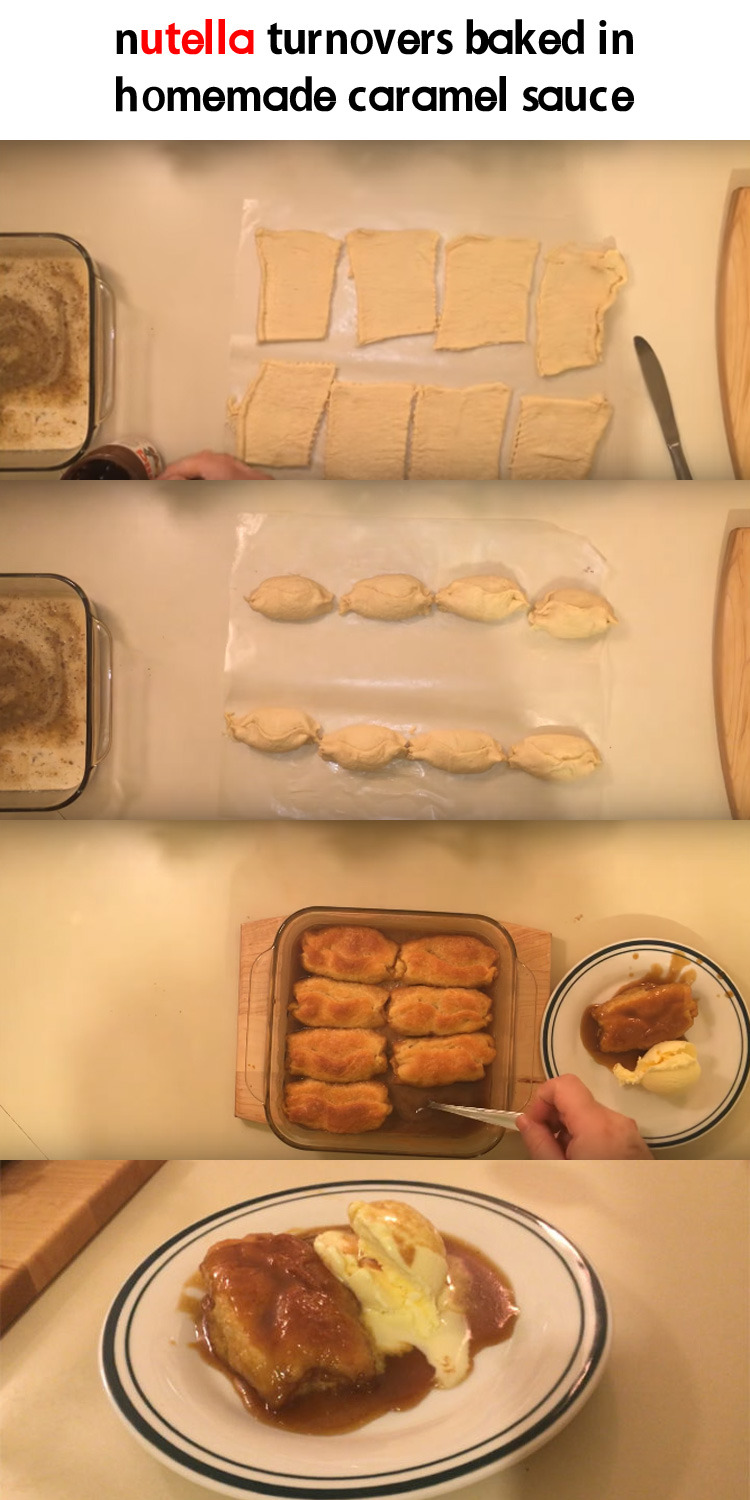 I'm a huge fan of chocolate hazelnut spreads like Nutella and if there is ever a chance I could make Nutella desserts like this one, I take it! Turnovers are great for dessert and I decided to use the refrigerated dough from a package of Pillsbury Apple Turnovers and substitute Nutella for the apple filling and bake them in a rich and luscious homemade caramel sauce.
While apple turnovers baked in caramel sauce sounds just as tasty, I was in the mood for chocolate. I noticed that depending on where you live, Pillsbury Apple or Cherry turnovers are sold in 6 or 8 count but while this recipe is for an 8-count package, you can use the same quantity of ingredients for either one.
Watch how easy it is to make Nutella desserts like these Nutella turnovers in rich caramel sauce.
Ingredients
1 package of Pillsbury Apple or Cherry Turnovers.
1 cup brown sugar
1/4 cup butter, melted
3/4 cup heavy cream, 35%
1/2 cup Nutella
Directions
In a 9×9 inch pan, combine the brown sugar, melted butter, and cream and stir well.
Roll out a tube of refrigerated turnover dough onto a piece of wax paper and cut dough into 6 or 8 rectangles (depending on which package count you have)
Place approximately 1 tablespoon of Nutella onto each rectangle and fold dough to seal. To ensure a tighter seal, also pinch both ends slightly.
Carefully place each turnover into the caramel sauce and bake in a 350 degree oven for 22-25 minutes or until bubbling. The longer it boils, the thicker your caramel sauce will be.
Serve with ice cream drizzled with caramel sauce for a quick and tasty dessert.
The best thing about this dessert is that it takes about 30 minutes from start to finish. If you need a quick but incredibly tasty dessert, you are sure to enjoy these Nutella turnovers in rich and luscious homemade caramel sauce. Please share this easy Nutella turnovers in caramel sauce recipe with your friends and family.
Facebook Comments