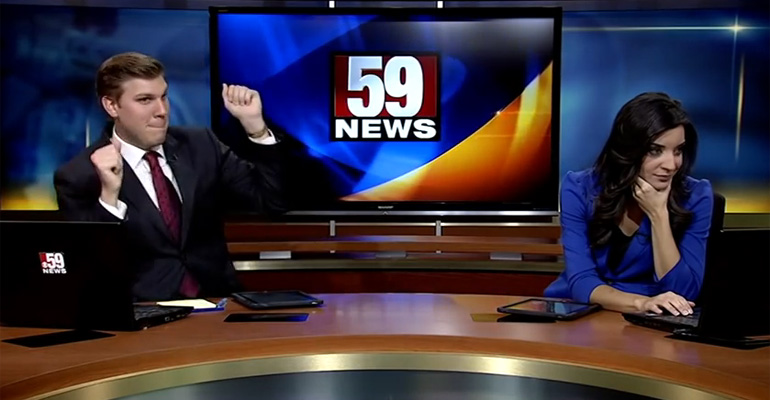 When Dan Thorn, news anchor for WVNS-TV's 59 News has a commercial break, he likes to loosen up and dance to some of his favorite songs. His co-anchor Sarah Pisciuneri seems like she could do without it but that doesn't keep Thorn from busting up some moves between breaks.
It's hilarious how Thorn improvises dance moves to various songs like 'Shake it Off' from Taylor Swift, 'Where They At Doe?' by T.I, and 'I Got The Feelin' by James Brown. I'm sure he would also provide some of funniest weather forecasts but he prefers having fun with his co-anchors during breaks. Check out these videos of Thorn dancing to these hits between commercial breaks.
Watch Dan Thorn breaking out the spirit fingers to 'Shake it Off' from Taylor Swift…
Rapping to 'Where They At Doe?' by T.I…
His antics were so hilarious that Dan Thorne also got featured on CNN
It may appear like Dan is a "thorn" in her side but Ms Pisciuneri seems to appreciate his humor and both have been anchoring the newscast for over a year. Please share this hilarious news anchor named Dan Thorn having fun at work like it should be with your friends and family.
Facebook Comments