When I first began cooking, one of my favorite dishes was chicken fried rice because it was so easy to cook and the flexibility of the ingredients was limitless. While delicious, my chicken fried rice recipe never quite ended up like the fluffy, flavorful chicken fried rice from my favorite takeout restaurant.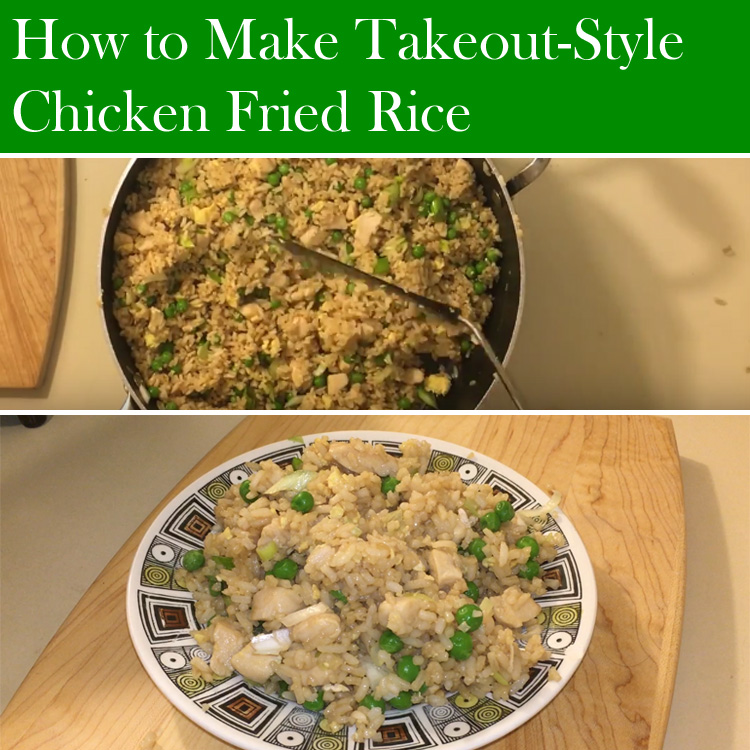 After trying several chicken fried rice recipes, I discovered one of the secrets to making perfect fried rice: cold rice! Using hot freshly-cooked rice usually results in mushy fried rice but using rice that has cooled for a few hours or even overnight will result in perfect fried rice with firm and distinct grains. Make this delicious chicken fried rice recipe today, you won't regret it!
I didn't leave instructions for cooking rice but the best ratio I found to avoid overcooked rice is to use:
1 1/4 cups of water for every 1 cup of long-grain white rice. This will generally yield about 2 1/2 cups of cooked rice.
Watch how to easily prepare this takeout-style chicken fried rice recipe…
As mentioned before, the flexibility of any fried rice recipe is amazing. Tired of chicken? Replace it with ham or beef. Don't like peas? Substitute with carrots or bell peppers. The combinations are virtually endless.
Takeout-Style Chicken Fried Rice Recipe
Prep Time: 10 mins
Cook Time: 15 mins
Total Time: 25 mins
Enjoy authentic Chicken Fried Rice at home with this easy fried rice recipe with delicious results!
Course: Side Dish
Cuisine: Chinese
Servings: 6 servings
Ingredients
4 cups rice, cold
1 1/2 cups boneless chicken * diced
2 eggs beaten
4 tablespoon oil
3 tablespoon soya sauce
1 cup frozen peas thawed
2 green onions chopped
Directions
In a wok or large skillet over medium-high heat, add 1 Tbsp of oil and stir-fry chicken until no longer pink.
Add 1 Tbsp of water and cook for 2 minutes, covered.
Add beaten eggs to chicken and cook until eggs are scrambled and cooked.
Reduce heat to medium and add the remaining 3 Tbsp of oil and add cold rice to the pan. Stir rice for a minute.
Add soya sauce and gently stir for 4-5 minutes until rice is hot.
Add peas and green onions and cook until rice is heated through.
Recipe Notes
Please use cold or leftover rice to prevent soggy or mushy fried rice.
* I marinate the chicken with 1/2 tsp salt, 1/2 tsp sugar, 1/2 tsp soya sauce, and 1 tsp water.
Chicken fried rice only takes a few minutes to prepare and can be stored in the refrigerator for 4 to 6 days so don't be afraid of making too much. Leftover chicken fried rice is so good that it won't last long in the refrigerator! While day-old rice is generally lower in carbs than fresh rice, if you're watching your carb intake, you may want to try cauliflower rice.
Please share this quick and easy takeout-style chicken fried rice recipe with your friends and family!
Facebook Comments