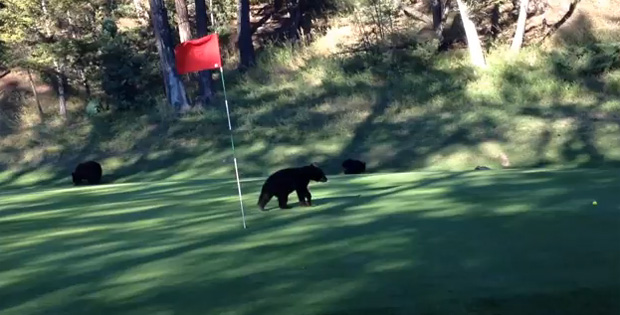 Some golfers captured video of a hilarious bear playing with a flag on a golf course and playing with a flagpole. He was caught having the time of his life at the Fairmont Hot Springs Resort in British Columbia, Canada.
The bear goes to great lengths playing and trying to capture the flag at the Mountainside Golf Course. He doesn't stop spinning and you'll notice he/she is not a bad dancer! In fact, it looks like the bear is performing a circus act on the golf course and it's adorable.
Watch a bear playing with a flag on the Mountainside Golf Course.
Just like this grizzly bear diving in a swimming pool, this baby bear just wants to have fun. I think this bear wants to be the next "Tiger" but he definitely has fun with the golf ball.
Here are some of our favorite YouTube comments from this 'Baby Bear Circus Act on Golf Course At Fairmont Hot Springs Resort, BC' video:
"Thank you for capturing the first interesting thing to ever happen on a golf course." – BinkieMcFartnuggets
"Green fees $100, cart rental $25, baby bear playing through – and eating your partner's golf ball – priceless! ;-)" – slywlf
"Mama bear comes out of nowhere, mauls man in an orange shirt to death!" – 99Paradigm
"'This is the weirdest tree ever. Wait till I show my mom.'" – Miss Mayette
"Eye think I would skip that Hole…declare a par… Awesome sight indeed…FORE !!!!!" – AttaGurlBunzzz
"Those bears look quite young and you're going to get closer on foot? If momma is around I hope you got your running shoes on lol." – LordDarkHelmet
"These silly boys clearly don't understand what a mother bear would do to them if she saw them approaching her cubs…Silly golfers." – Jo Fergus
Please share this funny video of a bear playing with a flag on a golf course with your friends and family.
Facebook Comments