Adult memes. What more can we say? While every meme is meant to spark laughter or joy, very few reach a visceral response like funny adult memes. While not all adult memes are meant to be sexual in nature and many are simply labeled as such because the meaning would be lost on young and innocent minds.
In times like these, we all could use a little escape, and reading funny memes is an effective way of making us forget our worries for an instant. I hope you enjoy these adult memes and please share them on social media to pass on the gift of laughter.
1) Let the adult memes begin!
"How a woman tells society she is single."
2)
"Arguing over a girl's breast size is like choosing between Bud Light, Miller Lite, or Coors Light. You can state your preferences but you'll end up grabbing whatever."
3)
"At least this lockdown will force me to save money…Also me:"
4)
"Attention: Please DO NOT open or try on product. Thank you."
5)
"[censored], I know you lying but continue…"
6)
"Me: I got bitten on my walk by a Great Dane. Her: My God – imagine if it been a small child. Me: I could have fought off a small child, Alice."
7)
"My [censored] search words are 'both look like they're having fun'."
8)
"When boobs attack."
9)
"A child should always have their mom's last name. Girl if you don't know who your baby daddy is then just say that."
10)
"Costa Rica throwback. When it's safe to travel again where are you going? To work Kimberley."
11)
"Crush: I would've [censored] you ages ago but you didn't make a move. Me:"
12)
"My daughter loves to sleep with her butt in the air and it's the cutest thing. I thought she was in a microwave."
13)
"Do you like men with big [censored]? Yes 😉 Sorry I wasted your time."
14)
"Me: Elephants [censored] by slapping their [censored] against their chest until they [censored]. Target cashier:"
15)
"You ever just stop and thank god you haven't caught HIV despite all the raw [censored] you've had in life."
16)
"Everybody has at least one type of alcohol they can't drink anymore coz of that one time you almost died."
17)
"Everyone showing the picture saying they can live in a cabin with no internet for a month. 14 days of quarantine determined that was a LIE."
18)
"Friend: How do you like your women? Me: Plump, sweet, and begging for cream."
19)
"Going out with the boys? You won't be needing this then."
20)
"Me: Honey you need to embrace your flaws. Wife: Ok [hugs me]."
21)
"Hairdresser: What u want? Chick: I got [censored] on my mind. Hairdresser: Say no more fam."
22)
"Have you ever been so mad that you hit a [censored] with another [censored]."
23)
"When he turns the lights off and smacks your butt and says, 'Damn that [censored] fat' but it's actually your stomach."
24)
"When you hear the toy box dump out."
25)
"Her: I don't know, I'm not really that type of girl. *2 Smirnoff Ices later*"
26)
"Hey, Lupita, what do you call the thing between the [censored] and the [censored]? The coffee table."
27)
"How're the knees, Gladis? Sweetie I've been giving head since 1952, [censored] takes a toll on you lol."
28)
"I don't always have to retype my password but when I do, I stab each letter into the [censored] keyboard like it killed my family."
29)
"I don't know why I laughed: Pull my hair! I'm [censored] trying."
30)
"If your marriage can survive building an IKEA dresser together, it can survive anything."
31)
"Interviewer: Do you remember tweeting 'No job is better than a [censored] job'."
32)
"When Kanye do 69 with Kim."
33)
"Let's all have a moment of silence for people who can't have a moment of silence because they have kids."
34)
"Live every day like you're 2001 Nicole Kidman leaving her lawyer's office after divorcing Tom Cruise. Wow, ok."
35)
"When she mad but you gonna touch them [censored] anyway."
36)
"She thinks I made a heart with her hair."
37)
"I married her for her long legs and big [censored]. Now she has long [censored] and big legs."
38)
"When you're at the [censored] Anonymous meeting and they ask how many times a day you paddle the pink canoe: 19″
39)
"Me checking to see if my skirt is too short while my [censored] is popping out the back."
40)
"Meeting up with your bestie after giving your man head, but forgetting to use mouthwash…I smell children."
41)
"My mom's copy of '50 Shades of Grey'. I don't want to know what the bookmarks are for."
42)
"Oh look…The virus is still here and it's raining again."
43)
"When you're on a diet and you see a piece of cake on the table."
44)
"I only hangout with guys because it's less drama."
45)
"Me: Open a bag of snack in another room. My dog:"
46)
"People normally vs People during quarantine."
47)
"Lonely people take longer, hotter showers or baths to replace the warmth they're lacking socially or emotionally. Okay, I wasn't expecting to be attacked like that."
48)
"Push up bras are like a bag of chips. Looking good on the outside, half-empty on the inside."
49)
"Receiving an unsolicited [censored] pic like…I think the sausage is very aggressive here."
50)
"If you remember this game you probably have some responsibilities right now."
51)
"When she agrees to make a sex tape."
52)
"While wearing a bikini you show 90% of your body. Us men are so polite we only look at the covered areas."
53)
"Sisters: No one said life was going to be fair.""
54)
"When he slaps down the banana and it really is as big as he said…"
55)
"Friends: So you really just gonna bail on us for some [censored]?! Me:"
56)
"Sorry for this post…"
57)
"You: Hey long time no see…Me: Ummm have we've met? You: Remember we hooked up in…Me:"
58)
"When you take her out on a date and you're trying to drop hints."
59)
"That's how I'd sit too if I was married to David Beckham."
60)
"The letter 'P' upside down looks like a [censored] and the letter 'V' looks like a [censored]…Coincidence? I THINK NOT!"
61)
"If there's a bar where everybody knows your name, you're probably an alcoholic."
62)
"When I think about you, I touch my shelf."
63)
"Wanna see me give a [censored]? Wanna see me do it again?"
64)

"Watching [censored]: Viewed vs Skipped."
65)
"We accidentally amputated your [censored]. WTF!? Ma'am, you need to calm down!"
66)
"When you've been riding him for 42 seconds but you're used to him busting within 30 seconds."
67)
"Yeah, [censored] you too!"
68)
"When you hit the stage in 10 minutes but your kids need cereal…"
69) Oh no! We've almost reached the end of funny adult memes…
"Your girl screams my name when you have sex."
70)
"When you're trying to get adopted first."
71)
"Every girls' reaction when they see a giant [censored] after a long time!!"
I hope you enjoyed these funny adult memes!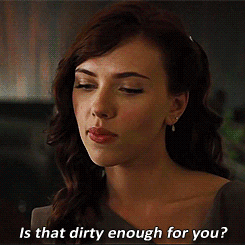 "Is that dirty enough for you?"
Please share these funny adult memes with your friends and family.
Facebook Comments