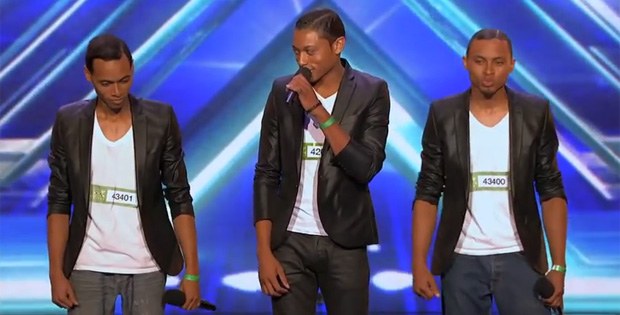 A trio of brothers from Los Angeles who named their group AKNU proved that it doesn't matter where you come from or what life throws at you. If you have a dream, give it 110% and only then will it have a chance to become a reality.
They sang on The X Factor and their performance of 'Valerie' will blow you away. Simon was his typical cocky self but by the end of the audition, he ate his words.
Watch AKNU perform "Valerie" on The X Factor!
Here are some of our favorite YouTube comments from this video of AKNU performing 'Valerie':
"Simon's comment about hating the song was completely unnecessary." – johnkevin1104
"Nobody: Not even a soul: Simon: I HatE tHis SOng." – flor
"I hope these brothers are still singing and bringing everyone to a higher life in their presence. Mother Valerie, brought up some great kids!! Mannerism, respect, and pure love!!!" – SimonaLyne Enderz
"Not nice Simon, especially when they are singing in honor of their Mother. You were not at all professional, shame!" – Bernice Kritcher
"2019 and I'm still re-watching this audition." – Vendetta
"Who TF asked Simon if he liked the song or not?" – Life With Alyssa
"' Shout out to all my patients ' ???????????????? lol" – Surah Online
"This is Bruno Mars's version of Valerie and they did it really good." – Benjin Lama
"I don't understand why Simon said 'I hate this song' just before they started. He should shut up about those things until after the song." –
Rolo Beorn
"Simon: I hate this song. Reply: well let's see if we can change your mind on that my dude." – Greg Ensign
These brothers are extremely talented and they definitely have a great musical career ahead of them. Today, they are performing nationally and internationally and are making a name for themselves in the music world.
Please share this great video with AKNU performing 'Valerie' with your family and friends.
Facebook Comments