With so many tabloids and paparazzi's exposing negative stories about celebrities, it sometimes makes us look down on them and shake our heads. However, the majority of celebrities are caring people just like you and these tabloids rarely publish the great things they do for other people.
Most celebrities are humbled by their success and help their fans who cheered them along the way. Here are 17 celebrities who unselfishly helped regular people and made their day a little more special.
1) Mila Kunis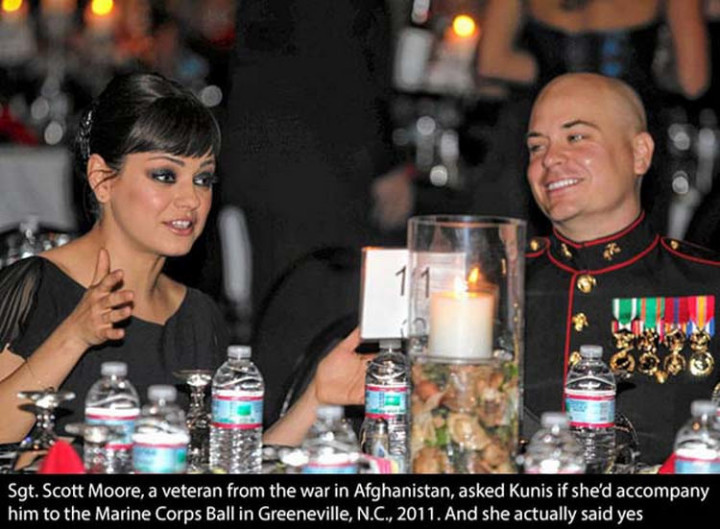 "Sgt. Scott Moore, a veteran from the war in Afghanistan, asked Kunis if she'd accompany him to the Marine Corps Ball in Greeneville, N.C., 2011. And she actually said yes."
2) Keanu Reeves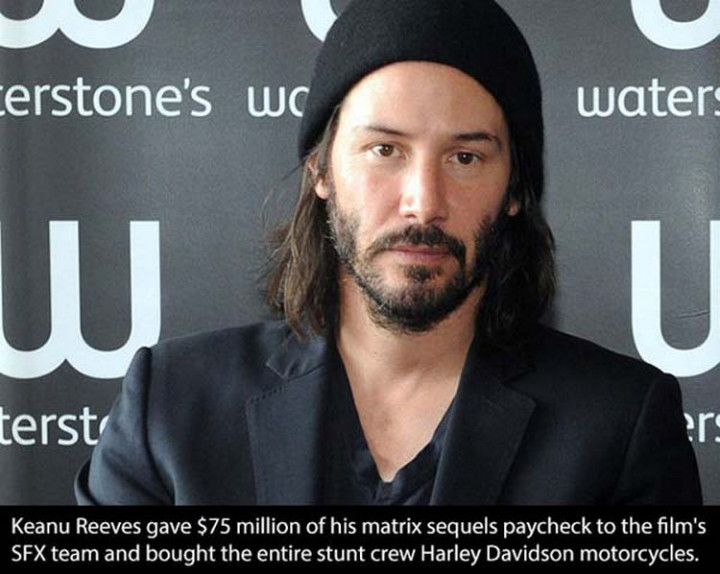 "Keanu Reeves gave $75 million of his matrix sequels paycheck to the film's SFX team and bought the entire stunt crew Harley Davidson motorcycles."
3) Emma Watson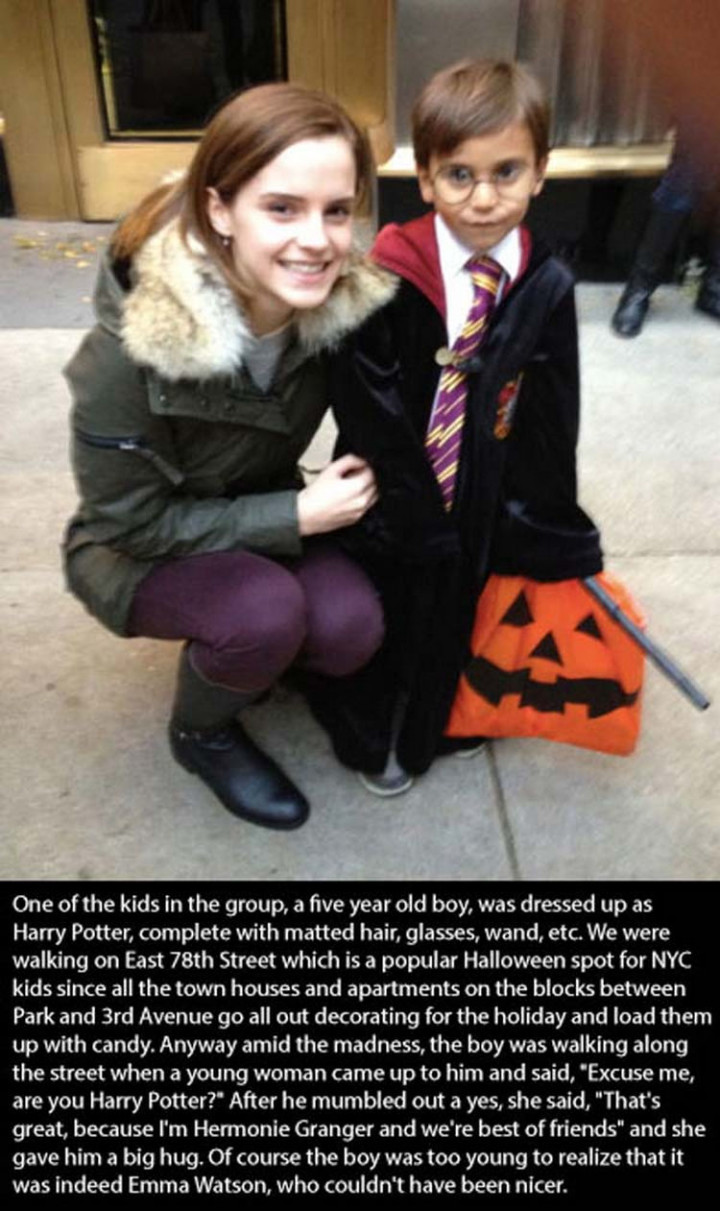 "One of the kids in the group, a five-year-old boy, was dressed up as Harry Potter, complete with matted hair, glasses, wand, etc. We were walking on East 78th Street which is a popular Halloween spot for NYC kids since all the townhouses and apartments on the blocks between Park and 3rd avenue go all out decorating for the holiday and load them up with candy. Anyway amid the madness, the boy was walking along the street when a young woman came up to him and said, "That's great because I'm Hermonie Granger and we're best of friends" and she gave him a big hug. Of course, the boy was too young to realize that it was indeed Emma Watson, who couldn't have been nicer."
4) Tupac Shakur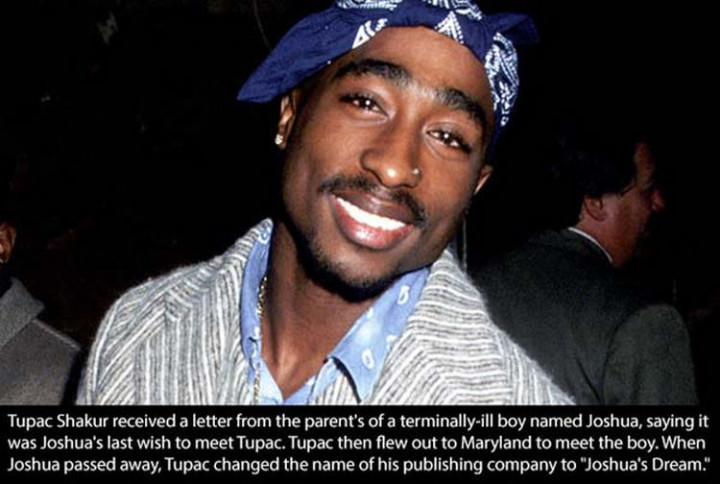 "Tupac Shakur received a letter from the parent's of a terminally-ill boy named Joshua, saying it was Joshua's last wish to meet Tupac. Tupac then flew out to Maryland to meet the boy. When Joshua passed away, Tupac changed the name of his publishing company to 'Joshua's Dream.'"
5) J. K. Rowling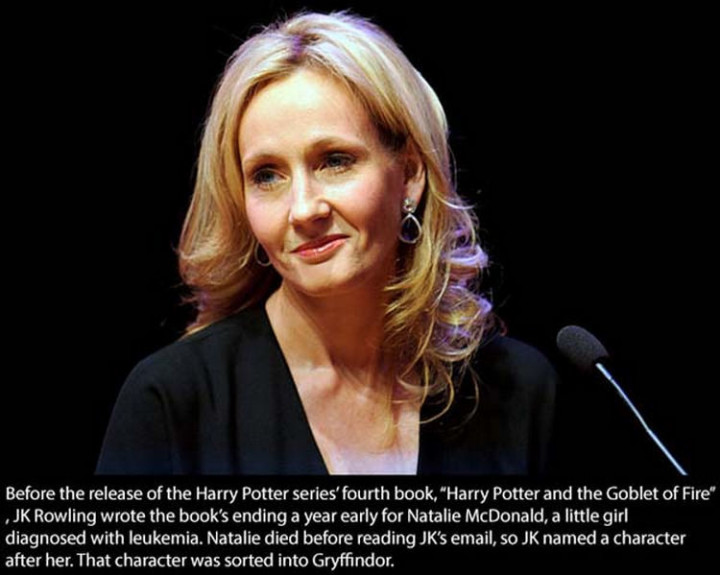 "Before the release of the Harry Potter series 'fourth book, "Harry Potter and the Goblet of Fire", JK Rowling wrote the book's ending a year early for Natalie McDonald, a little girl diagnosed with leukemia. Natalie died before reading JK's email, so JK named a character after her. That character was sorted into Gryffindor."
6) Tom Hanks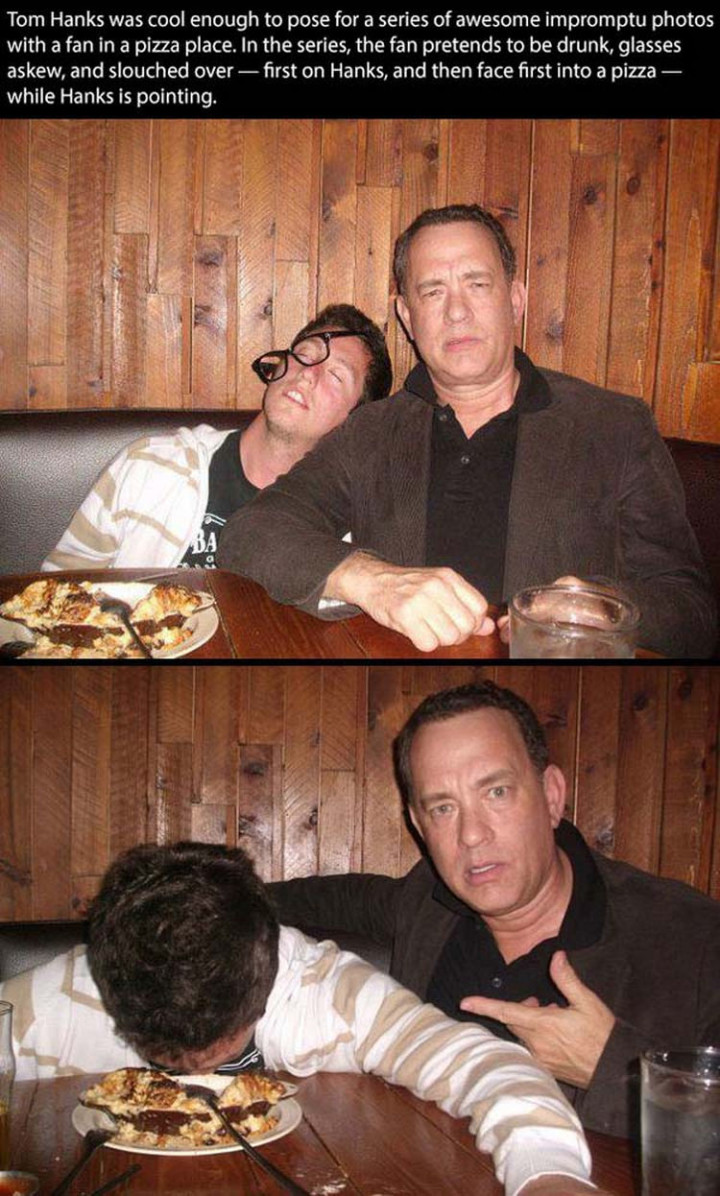 "Tom Hanks was cool enough to pose for a series of awesome impromptu photos with a fan in a pizza place. In the series, the fan pretends to be drunk, glasses askew, and slouched over – first on Hanks, and then face first into a pizza – while Hanks is pointing."
7) Daniel Radcliffe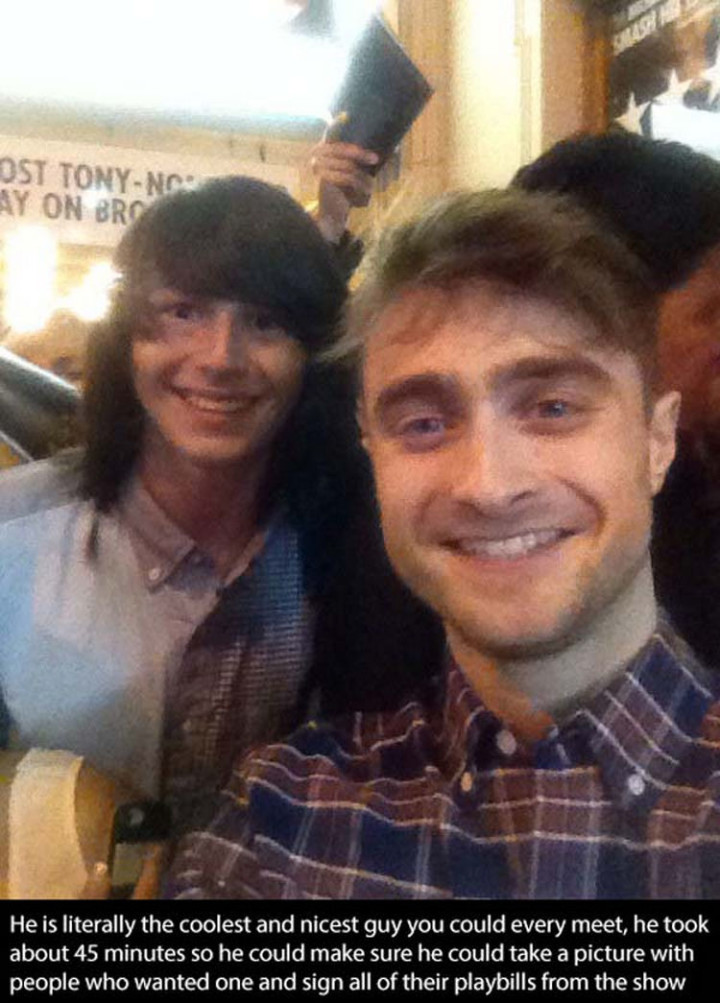 "He is literally the coolest and nicest guy you could ever meet, he took about 45 minutes so he could make sure he could take a picture with people who wanted one and sign all of their playbills from the show."
8) LeBron James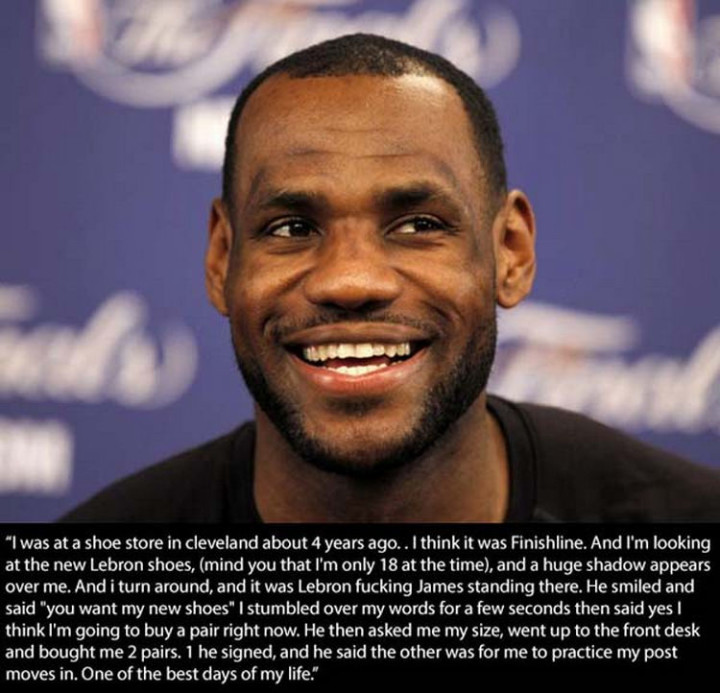 "I was at a shoe store in Cleveland about 4 years ago. I think it was Finishline. And I'm looking at the new Lebron shoes, (mind you that I'm only 18 at the time), and a huge shadow appears over me. And I turn around, and it was Lebron f***ing James standing there. He smiled and said 'you want my new shoes' I stumbled over my words for a few seconds then said yes I think I'm going to buy a pair right now. He then asked me my size, went up the front desk and bought me 2 pairs. 1 he signed, and he said the other was for me to practice my post moves in. One of the best days of my life."
9) Marilyn Manson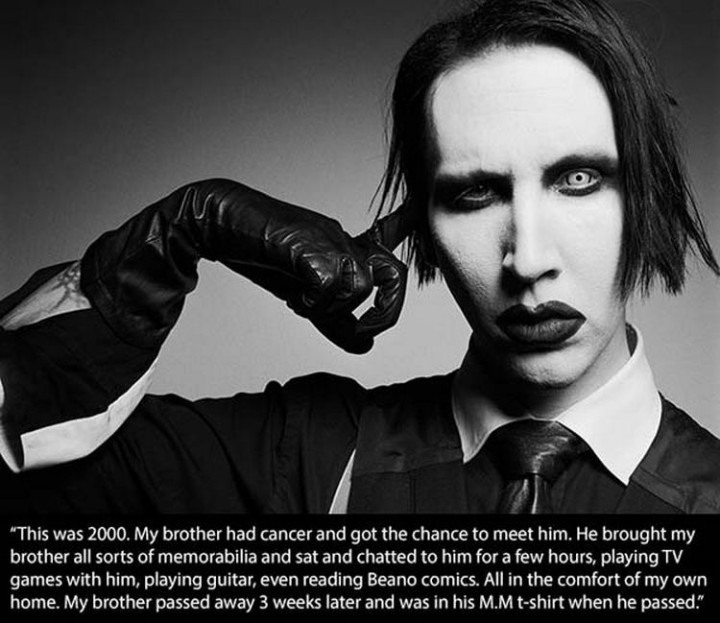 "This was 2000. My brother had cancer and got the chance to meet him. He brought my brother all sorts of memorabilia and sat and chatted to him for a few hours, playing TV games with him, playing guitar, even reading Beano comics. All in the comfort of my own home. My brother passed away 3 weeks later and was in his M.M t-shirt when he passed."
10) Dave Grohl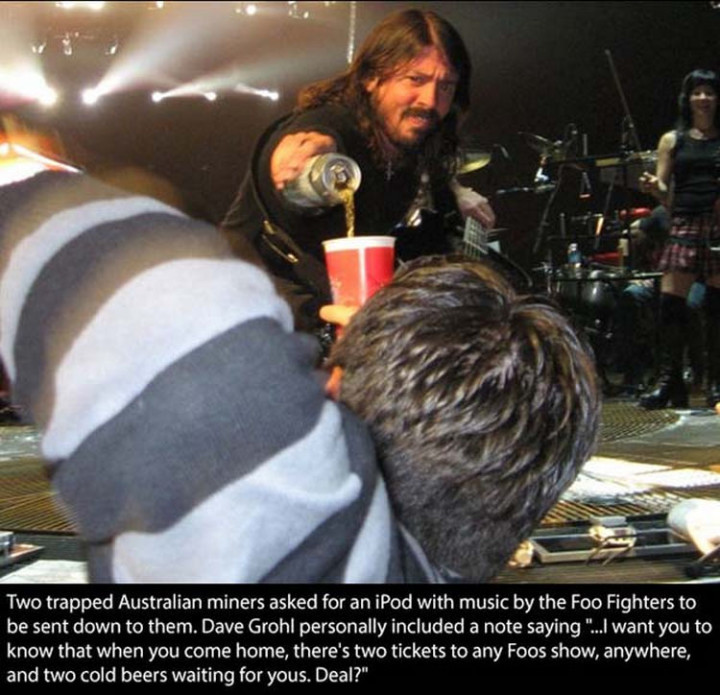 "Two trapped Australian miners asked for an iPod with music by the Foo Fighters to be sent down to them. Dave Grohl personally included a note saying '…I want you to know that when you come home, there are two tickets to any Foos show, anywhere, and two cold beers waiting for you. Deal?"
11) John Cena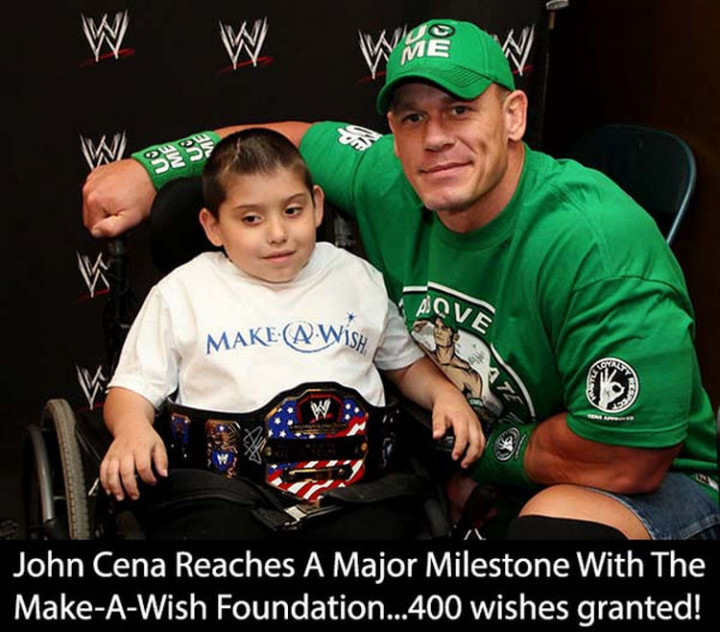 "John Cena reaches a major milestone with the Make-A-Wish Foundation…400 wishes granted!"
12) Jon Bon Jovi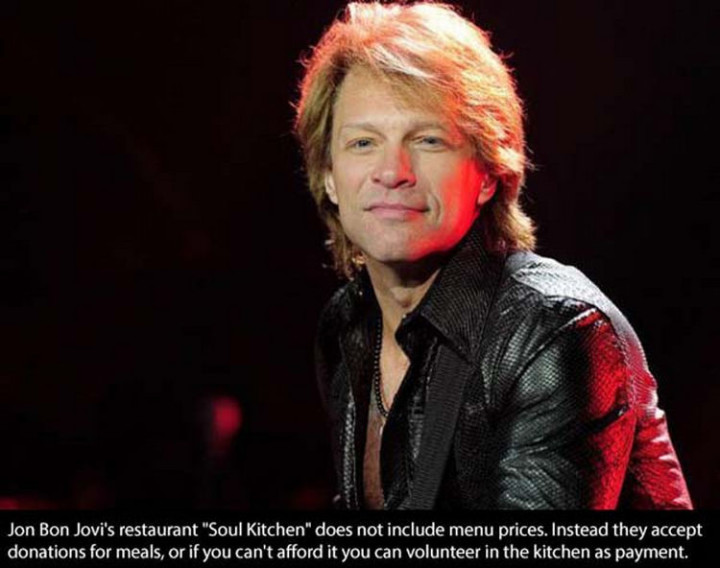 "Jon Bon Jovi's restaurant 'Soul Kitchen' does not include menu prices. Instead, they accept donations for meals, or if you can't afford it you can volunteer in the kitchen as payment."
13) Russell Brand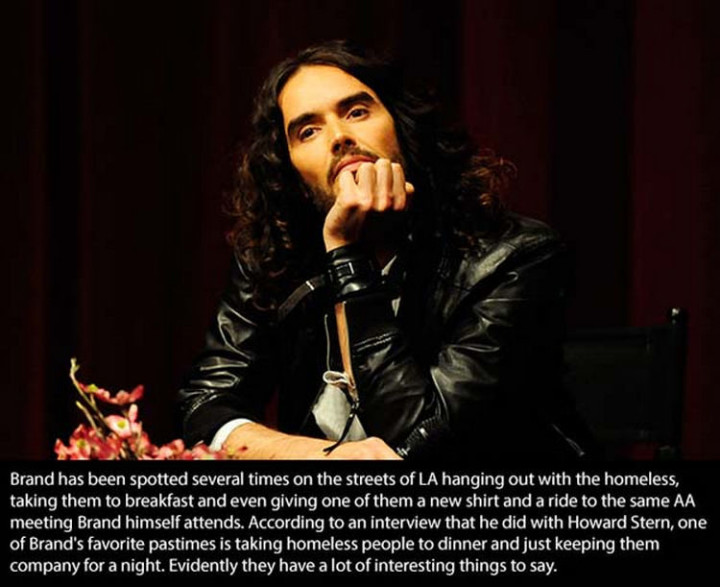 "Brand has been spotted several times on the streets of LA hanging out with the homeless, taking them to breakfast and even giving one of them a new shirt and a ride to the same AA meeting Brand himself attends. According to an interview that he did with Howard Stern, one of Brand's favorite pastimes is taking homeless people to dinner and just keeping them company for a night. Evidently, they have a lot of interesting things to say."
14) George Takei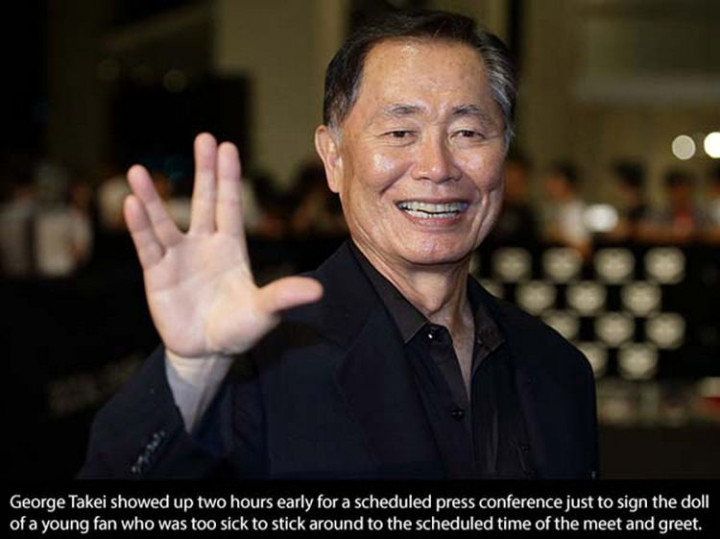 "George Takei showed up two hours early for a scheduled press conference just to sign the doll of a young fan who was too sick to stick around to the scheduled time of the meet and greet."
15) Tom Cruise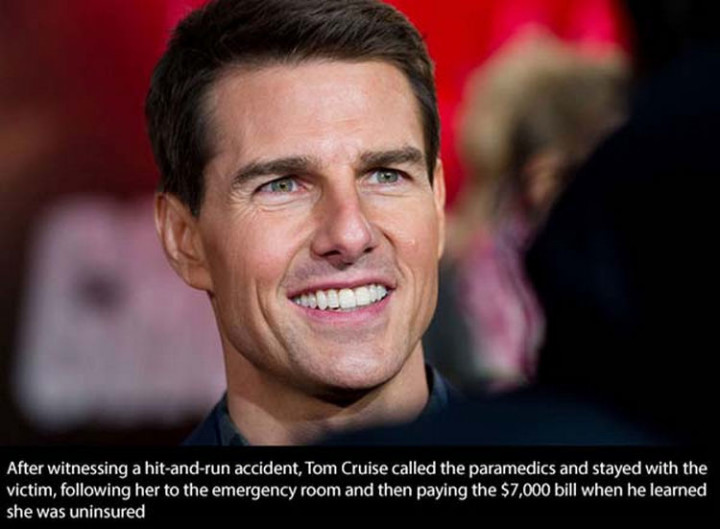 "After witnessing a hit-and-run accident, Tom Cruise called the paramedics and stayed with the victim, following her to the emergency room and then paying the $7,000 bill when he learned she was uninsured."
16) Johnny Depp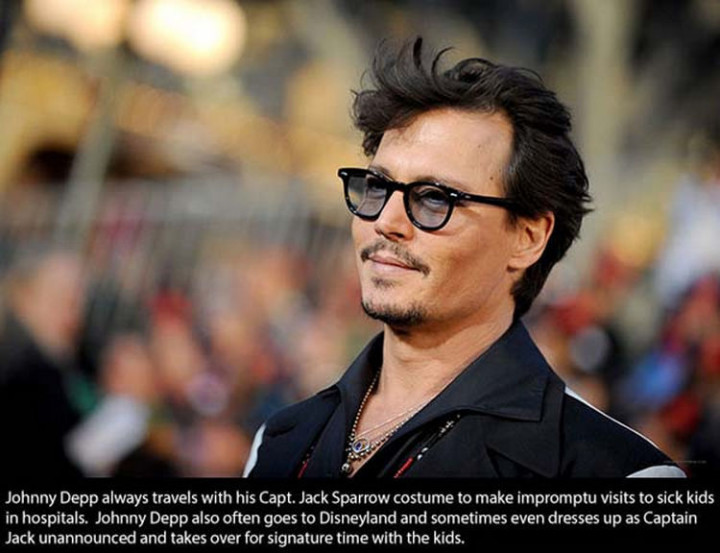 "Johnny Depp always travels with his Capt. Jack Sparrow costume to make impromptu visits to sick kids in hospitals. Johnny Depp also often goes to Disneyland and sometimes even dresses up as Captain Jack and takes over for signature time with the kids."
17) Dave Chappelle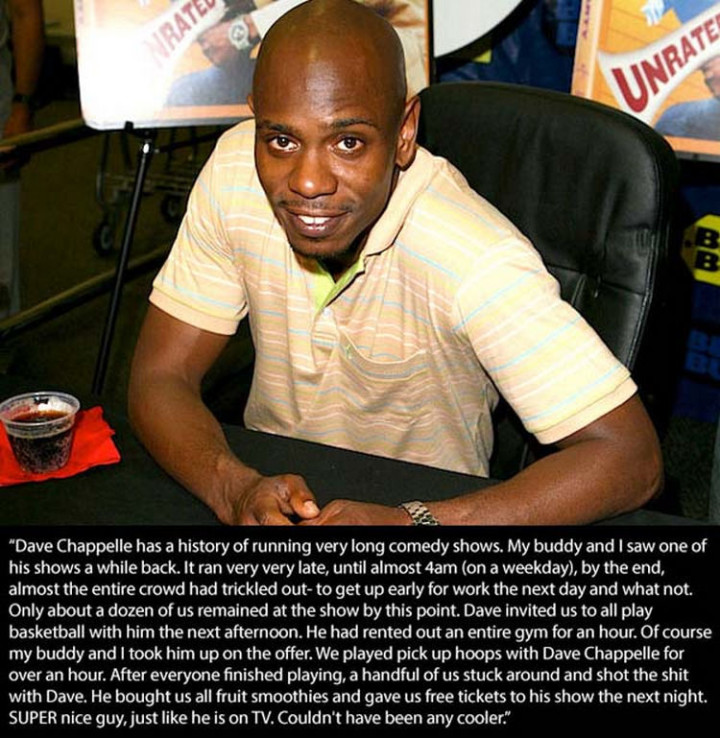 "Dave Chappelle has a history of running very long comedy shows. My buddy and I saw one of his shows a while back. It ran very very late, until almost 4 am (on a weekday), by the end, almost the entire crowd had trickled out – to get up early for work the next day and what not. Only about a dozen of us remained at the show by this point. Dave invited us to all play basketball with him the next afternoon. He had rented out an entire gym for an hour. Of course, my buddy and I took him up on the offer. We played pick up hoops with Dave Chappelle for over an hour. After everyone finished playing, a handful of us stuck around and shot the s**t with Dave. He bought us all fruit smoothies and gave us free tickets to his show the next night. SUPER nice guy, just like he is on TV. Couldn't have been any cooler."
These acts of kindness are what makes them "Super" stars in my mind. Please share these random acts of kindness by celebrities with your friends and family.
Facebook Comments