Some would argue cats own the internet but dog lover's know that dogs rule their world. Man's best friend, good boys, whatever you call them, no other animal will be happier to see you when you arrive home from work than your dog.
To celebrate dogs and the joy they give their owners, here are 101 of the best funny dog memes you'll find. But if you're a cat person, here are some funny cat memes!
1) Funny dog memes…get ready to laugh!
"When u ready to go out but ur uber is taking forever."
2)

"Why does this dog look like it just bought you a drink from across the bar?"
3)
"When ur master is petting another dog a bit too much for ur liking."
4)
"When you trying to diet and you hear your friend ordering pizza for delivery."
5)
"When u accidentally open the front camera but ur cute so it doesn't matter."
6)
"When you order something online and it doesn't fit how you thought it would."
7)
Funny dog memes: "Oh lord, Jesus. It's a fire."
8)
Friend: "Wanna go out tonight?"
Me: "I can't, I'm celebrating my dog's 1st birthday."
9)
"Nothing to see here. Just labradoodles being labradoodles."
10)
"He ate a lizard and turned around with this face. The face of a cold-blooded killer."
11)
"When you're the third wheel and just stuck in the middle."
12)
Bae: "Come over."
Me: "I can't I'm a pug."
Bae: "My master isn't home."
Me:"
13)
"I don't always eat my own poop, but when I do, I throw it up on your couch."
14)
"When the photographer calls you cute while taking your picture."
15)
"Current emotion: Dogs who are stuck but pretending everything is fine."
16)
"When you go to a friend's house for the first time. When you go to a friend's house that you've known for years."
17)
"Is he…taking a picture?"
18)
"When her parents are giving you the "treat my daughter right" speech but you know you gonna f*** and block her later."
19)
Funny dog memes: "Alex…please don't be mad. What did you do? So…You know how I was supposed to take Mason to get a pet fish? Yes…I swear to God if you come home with anything other than an aquatic animal, I'm going to shoot you. We named him Fish."
20)
"Right, I'm "not" allowed on the furniture. Gotcha."
21)
"Hello. Yes, this is dog."
22)
"Red Lobster standing by…come in Dog Fort, over…This is Dog Fort."
23)
"Tis better to have eaten something and thrown it up and then eaten it again that never to have eaten it at all."
24)
"Just a little turbulence folks. Actually, I'm a dog so we're all going to die."
25)
"If heaven exists then this is what u see at its gates."
26)
Someone: "Come over."
Me: "I can't I'm dead."
Someone: "I have a dog."
Me:
27)
Funny dog memes: "Look I got us a puppy! You literally went out to get milk. But he's so cute! We have 23 dogs."
28)
Solarsweeps: "The dog all puppies aspire to be. He did it. He caught the tail."
I-will-die-laughing: "His face just says "what am I going to do with my life now."
29)
"Just put the treats in the cup and no one gets hurt."
30)
"Corgi butt or loaf of bread?"
31)
"Guess which one misses being the only dog?"
32)
"Hyper awake. Hyper asleep."
33)
"Oh, you ran a marathon. How heavy was the sled."
34)
"Why don't you take me for a walk. You could use the exercise."
35)
"By your standards, I'm dumb. But my standards, you're blind, deaf and suffering from chronic olfactory dysfunction. Let's keep judging each other. I like this game."
36)
"I don't know man, I just…What if I never find out who's a good boy."
37)
"One day you will reach the handle, and we can both go out to pee."
38)
"Let me in. I need to go back out again."
39)
"You mean to tell me the ball was in your hand the whole time?"
40)
"I did the math. We can't afford the cat."
41)
"At first, we were all like. But then we were like."
42)
"What I see. What my dod sees."
43)
"CEO. General Manager. Manager. Assistant Manager. Employee. Intern."
44)
"I thought you were never ever ever ever coming home ever so I panicked."
45)
"Today is the day, I can feel it. Today I will catch that tail."
46)
"Sometimes I like to squirrel."
47)
"Day 33. They still suspect nothing."
48)
"I chewed up all your sneakers. Now you never have to leave me again."
49)
"What my parents think I do. What my friends think I do. What society thinks I do. What my boss thinks I do. What I think I do. What I really do."
50)
"I guess we'll never know who did it."
51)
"Begs you to throw toy. Puts up a fight when you try to take it."
52)
"He's never seen himself in the mirror, so I tell him how handsome he is at least 20 times a day."
53)
"When ur pet falls asleep on u and the fear of disturbing them paralyzes u."
54)
"Every snack you make, every meal you bake, every bite you take, I'll be watching you."
55)
"There's a picture of a dog meeting pluto n the dog look so hype to meet him I can't stop laughing."
56)
"Who's awesome? Your awesome."
57)
"I'm not fat…I"m just a little husky."
58)
"When you finally get on the beach and see people that took their diet seriously."
59)
"When you hear your owner eating in the next room."
60)
Me: "The humans are having people over for dinner so I better be a good boy."
Me to me: "Drag your butt on the carpet."
61)
"I have no idea what I'm doing."
62)
"Puppies. They're pretty much retarded."
63)
"Now kiss."
64)
"When your girl's mad and you try to cheer her up."
65)
"When you're trippin hard and catch a glimpse of yourself in the mirror."
66)
"When you begin to realize you might have adopted a polar bear and not a dog."
67)
"Insert your own funny dog memes caption here." 🙂
68)
"Whenever I turn on the vacuum they huddle together like…"
69)
"It's just two girls eating poop, I don't get it."
70)
"I don't always bark at night. But when I do, it's for no reason."
71)
"This is a risk I'm willing to take."
72)
"When you chillin with your girl and get a text after 11 and act like you ain't hear it…"
73)
"Can we getz…a bigger swimmy pool?"
74)
[Speed Date]
Girl: "Yeah, I'm into bad boys."
Dog: *Stands up* "I think we're done here."
75)
Me: "Is my condition ruff?"
Dog: "I didn't get a medical degree to hear your s*** f***ing jokes."
76)
"When u hear her call someone else a good boy."
77)
"Here comes your crush. Act natural."
78)
"When you're chillin at home and bae facetimes you so you gotta glo up real quick."
79)
"Did…did he make the sign?"
80)
"When ur human says "who's a good boy" and u already know it's u."
81)
"Plz don't make me find drugs today woof."
82)
"When someone asks the squad who's a good boy."
83)
"Would you let your dog go out dressed like this?"
84)
"911 what's your emergency?"
Dog: "Yes where are my balls."
85)
Doggo: "How can I help you?"
Customer: "My modem won't work."
Doggo: "Have you tried throwing up and then eating the throw up?"
86)
"To catch the squirrel, you must become the squirrel."
87)
"Sticks nose in girl's crotch. Oh, he's so cute!"
88)
"After not seeing my dog in 5 months, I skyped with him last night. My mom sent me this after we disconnected."
89)
"Fur missile incoming."
90)
"Sometimes I feel like the only dog at a llama orgy."
91)
"You know it's hot when even the dog starts to melt."
92)
"Dog and snog."
93)
"Maybe if you went to bed earlier, you wouldn't be so tired. Stop talking shit, Carl."
94)
"He thinks he has to wait in line to get a treat."
95)
"Doggos who borked 3 tims and overdosed into maximum borkdrive."
96)
"When I ask my dog if she wants to go for a walk…"
97)
"In my day, I had one toy and it was a stick."
98)
"While you played fetch, I studied the blade."
99)
"Sorry class, my dog ate everyone's homework."
100)
"It looks like the dog's having an out of body experience."
101) …and the last of the funny dog memes…
[Dogs chatting in park]
"So what does your human call you? "Hoozagoodboy" omg same."
We hope you enjoyed these funny dog memes!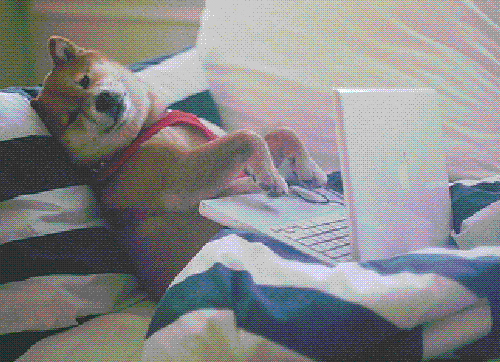 Please share these funny dog memes with your friends and family.
Facebook Comments